With countries starting to open up and some travel restrictions being eased, people may be starting to think about traveling again.
We are still a little while away from vaccines being distributed to everyone and probably even longer until our lives start to get back to normal so travel will still be quite different from the pre-coronavirus days.
We recently took a trip to Saint Lucia to see what travel in 2021 would look like for people. Saint Lucia is welcoming tourists again with careful and strict conditions.
Should you travel during COVID-19?
Not everyone is ready to travel again, and not every country is welcoming travelers. But some destinations are looking forward to tourism opening up and with a few precautions are hoping to see travelers again soon.
While we don't recommend jumping on a plane and traveling the globe we do feel that if you are committed to traveling responsibly and are willing to take all the precautions to keep yourself and others safe, there is no reason you can't get on a plane and have a lovely vacation in an exotic destination.
Wondering where you can travel now? There is a cool Covid Travel Tracker that you can check on destinations. Click here to see updated travel restrictions.
Pre Flight Requirements Coronavirus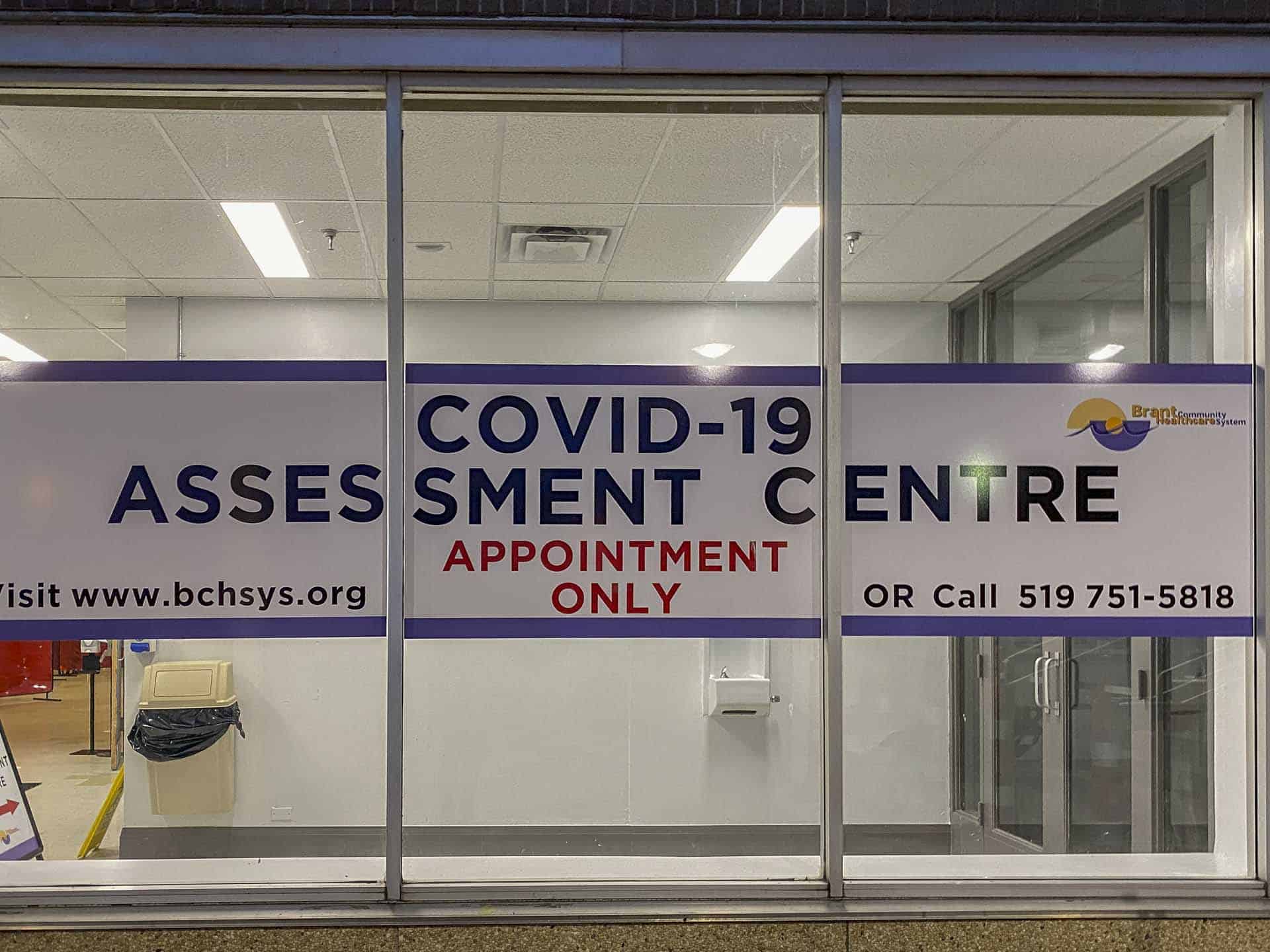 Before flying to Saint Lucia, we took a COVID test. Saint Lucia requires a negative COVID test within 7 days of travel.
Most other countries have also implemented a negative COVID Test before flying. Some countries require less time with 72 hours.
We were invited to travel to The Azores earlier this year but with the 72 hour COVID window, we were worried that we wouldn't have our tests back in time.
Also, at the time, there was a backlog of testing since students were just starting to return to school, so we opted against putting extra strain on our health system.
Seven days for Saint Lucia was more than enough time for us to get tested and have the results in our hand by the time we flew.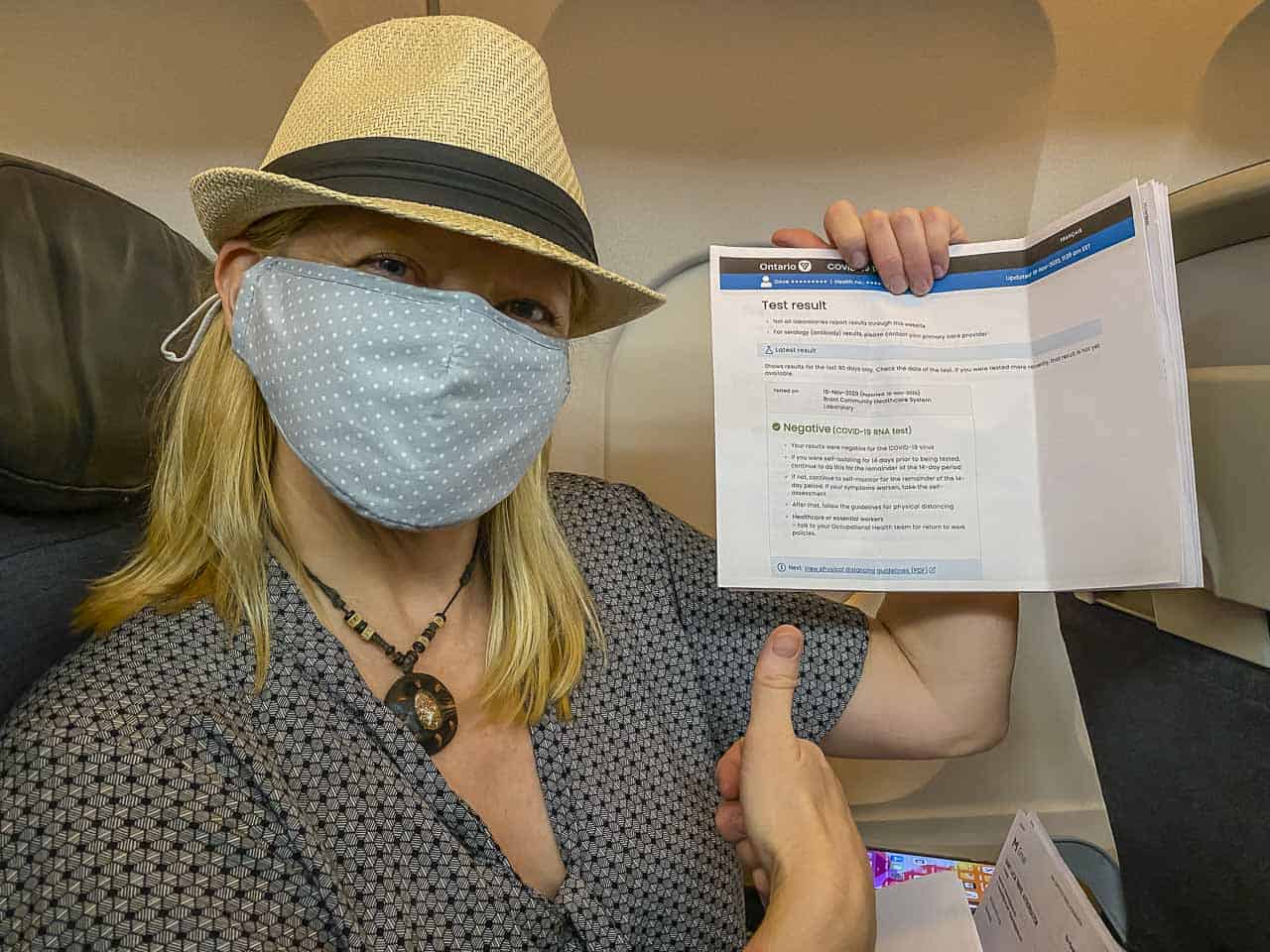 But after taking our test, we were very careful to continue to socially distance to keep the chances of contracting the virus between having our test and before our flight.
We also bought COVID Insurance before flying with Medipac. You can read our COVID Travel Insurance recommendations here.
Paperwork for Travel during COVID-19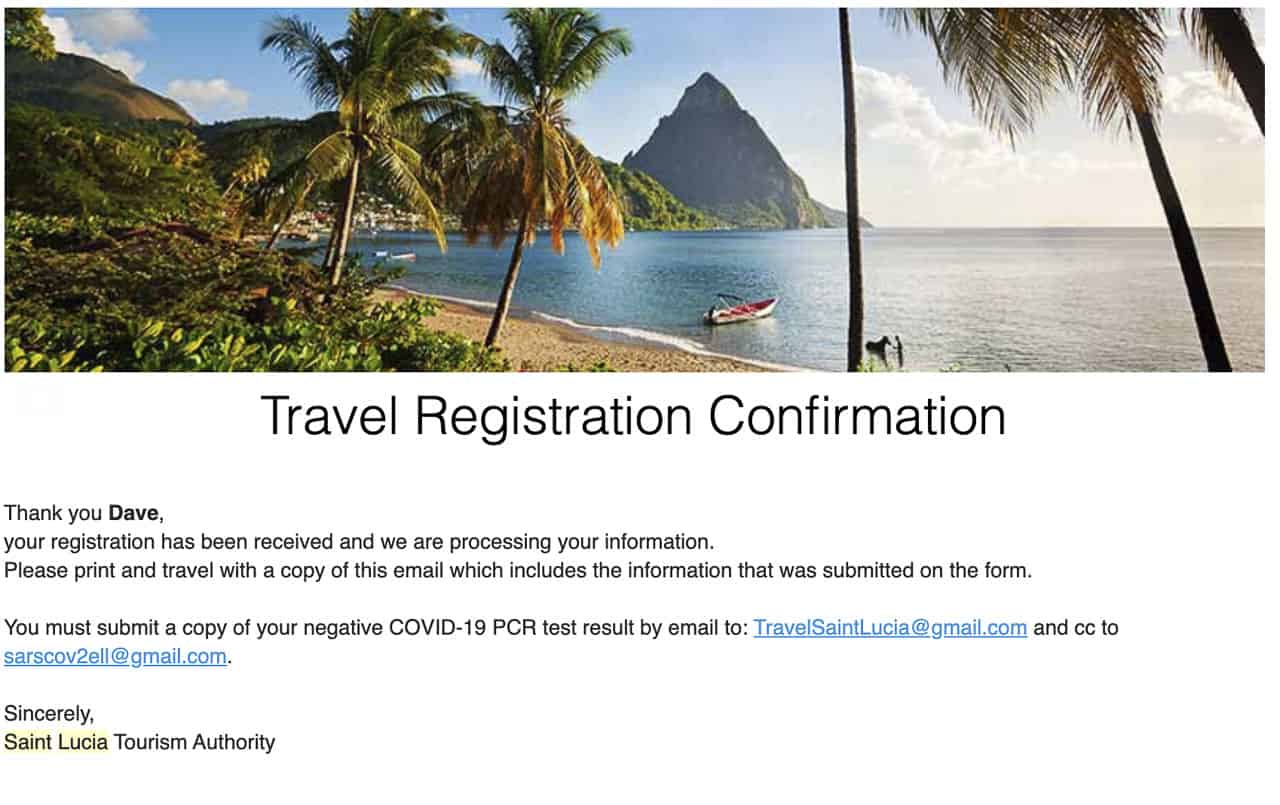 Travel has changed a lot, so be prepared to fill out and print off a lot of paperwork before flying.
Before flying to Saint Lucia, we had to print out our negative COVID tests. But on top of that, we had to send in our tests to Saint Lucia to receive a Travel Registration Confirmation letter, and finally, we have to send in documents to the Saint Lucia Tourism Board for approval to enter Saint Lucia as an international visitor.
All of these documents had to be printed out and on hand for check in at the airport in Canada.
COVID- 19 Rules in Canada
On the Canadian side, we had to download the Arrive Canada app. We didn't have to have it filled out before leaving Canada, but it did have to be filled out before flying back to Canada.
COVID-19 Rules in the United States
If you are traveling from the United States make sure to check out the guidelines on the CDC Website site before booking any travel.
You will also want to check out your airline's regulations and restrictions before you fly.
What is the Airport Experience Like?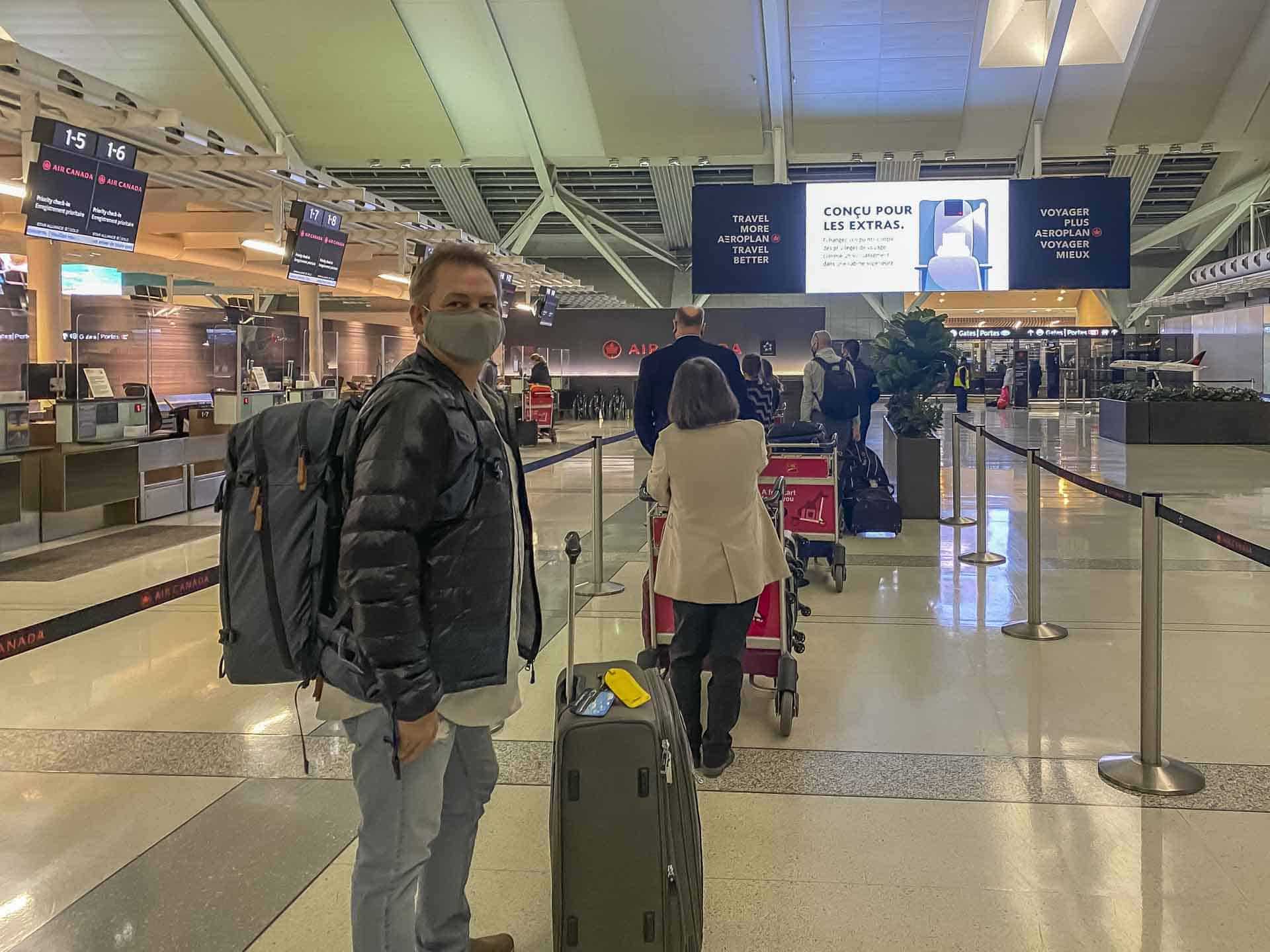 Flying is a completely different experience right now. Only passengers with boarding passes are allowed in the terminal.
Air Canada offered checkin and touch free bag drop off to avoid lines and to offer minimal contact.
At check-in, we had to hand over all our documents for Saint Lucia to the attendant. She checked off each piece of paper before checking us into our seats.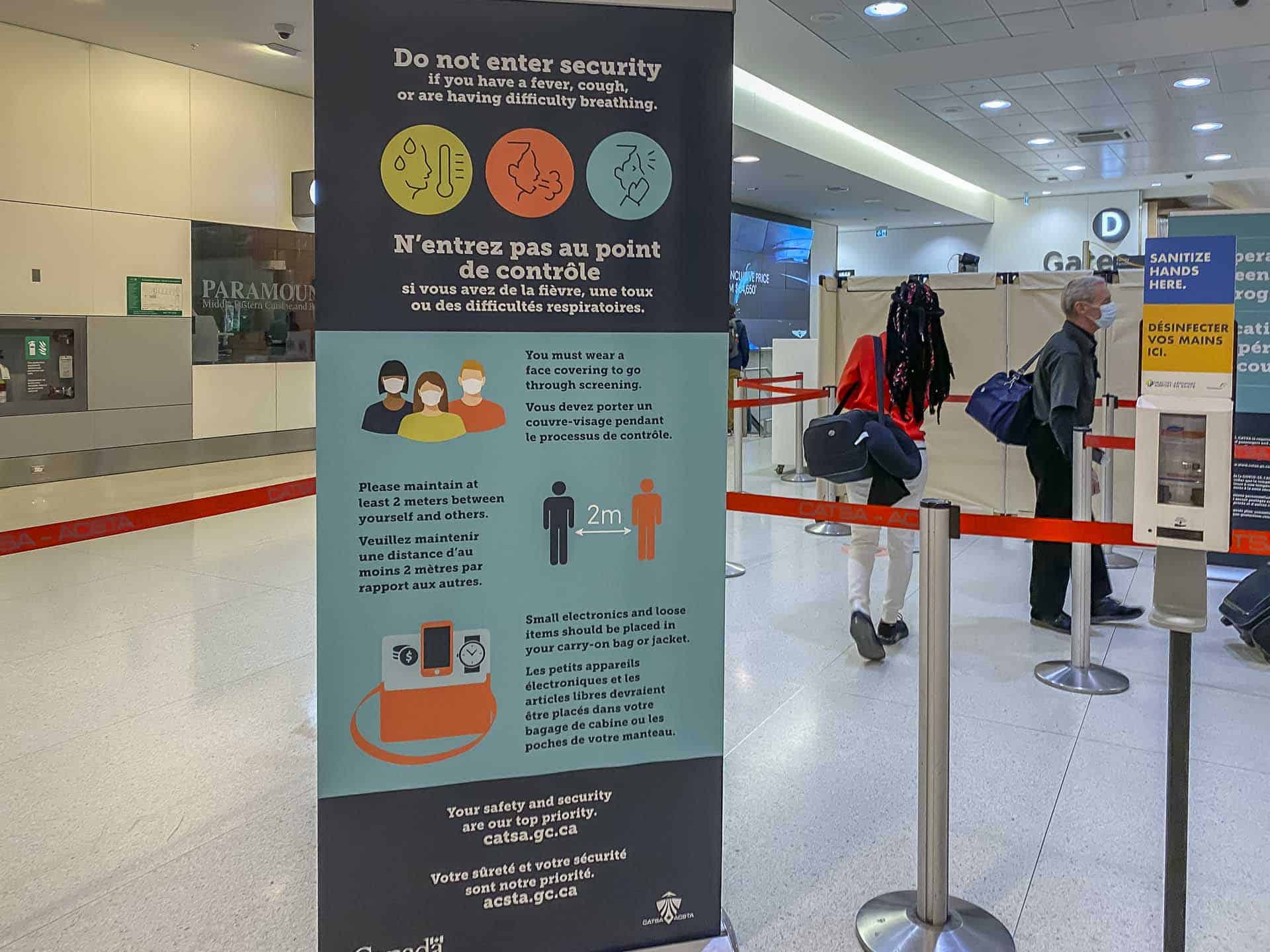 All people go through the same security lane that is closely monitored. If you are a frequent flier, do not expect any of the perks. There is not a separate line for NEXUS or frequent flier status.
Everyone has to wear a mask and they ask you to sanitize your hands when entering the line.
When flying during COVID, give yourself extra time.
At security, we had to go through a temperature check before placing any bags on the conveyor belt.
Since everyone was going through just a couple of lines, there was quite a backlog at the other end of security when our bags came out of the x-ray machines.
While the social distancing was great in the lines and at check-in, on the other side of security, everyone was crowding around the desks waiting for their bags.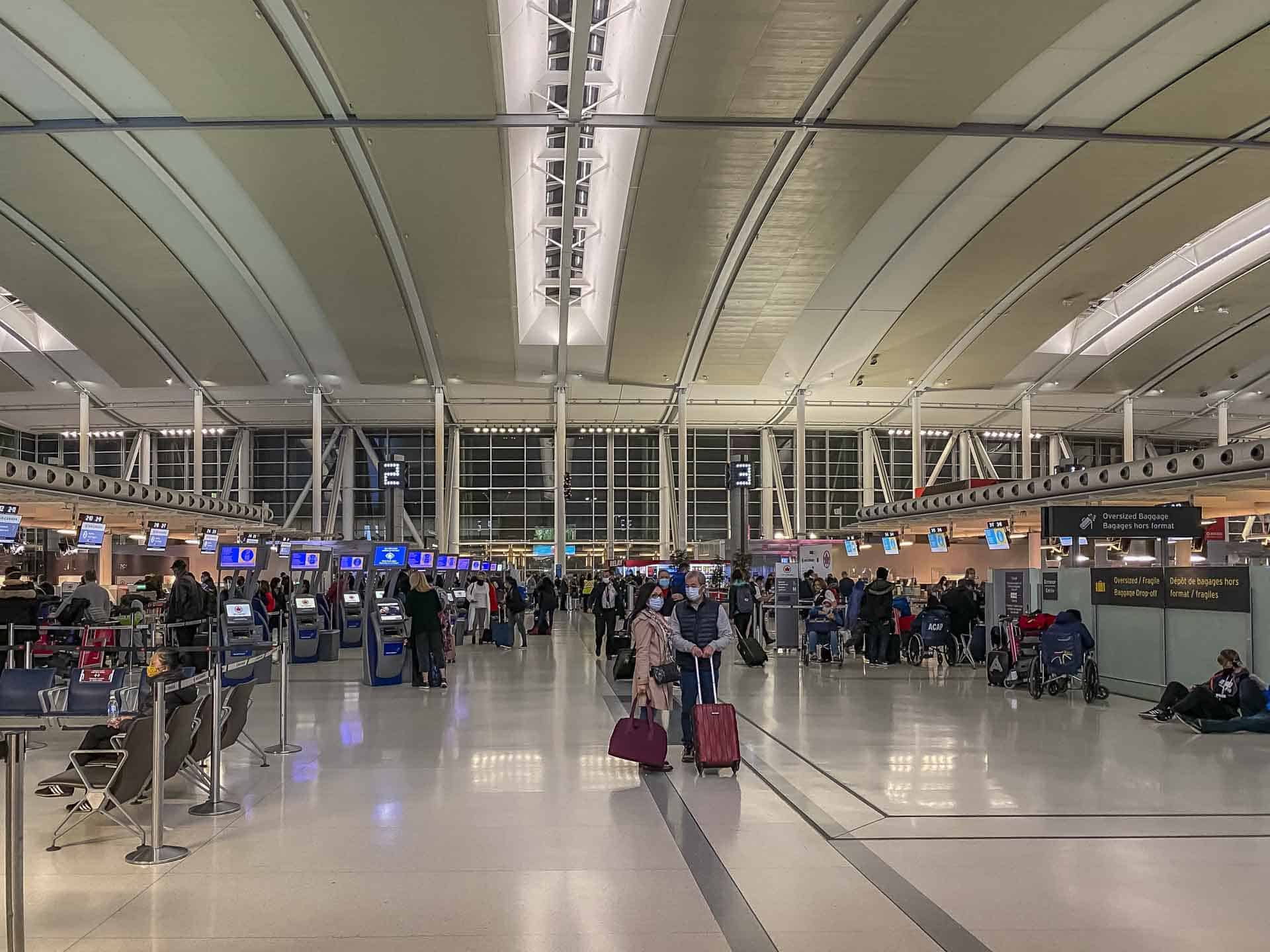 Many bags had to go through a secondary screening so people were waiting quite a while.
My bag had an extra check because of electronics, but Dave made it through.
We were at least 30 minutes waiting at security as there were a bunch of people ahead of us. It seemed that every other bag required a secondary check.
Luckily, everyone was wearing a mask, and most people were aware of trying to keep their distance. While waiting, we kept our distance from other people by hanging back.
Happily, we got through and made our way to our gates.
The airport was quite empty, so we felt fine being in public. We were planning on hiding in the lounge to avoid more people, but (at least in the international terminal) the Air Canada lounge was closed.
It didn't matter anyway, because the Toronto Pearson Airport (YYZ) was quite empty.
We found a seat and had about 15 minutes to spare before our flight. Pearson has seats blocked with signs off so people cannot sit too close to each other.
What is the Onboard Experience Like?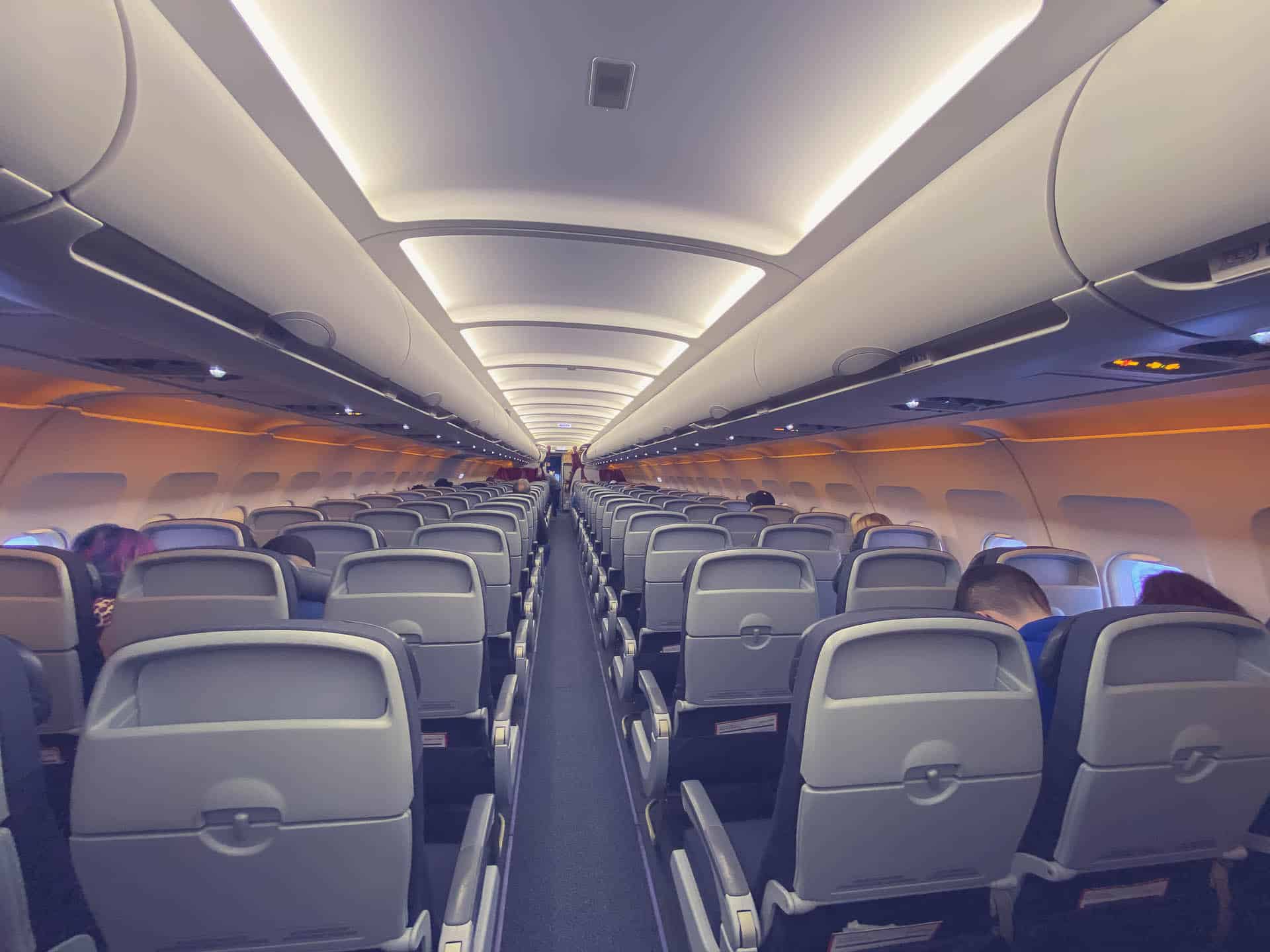 Boarding was orderly and easy. Our flight only had about 20 people on it, so we were all easily distanced from each other.
Air Canada has their full safety precautions here.
We received a care package, although it wasn't until we were in the air, so we found it strange that we received our alcohol wipes and hand sanitizer after being on the plane for quite some time.
Luckily, Dave and I had our own wipes and hand sanitizer and wiped down the seats as soon as we sat down. We suggest having your own sanitizer kits in your carryon regardless.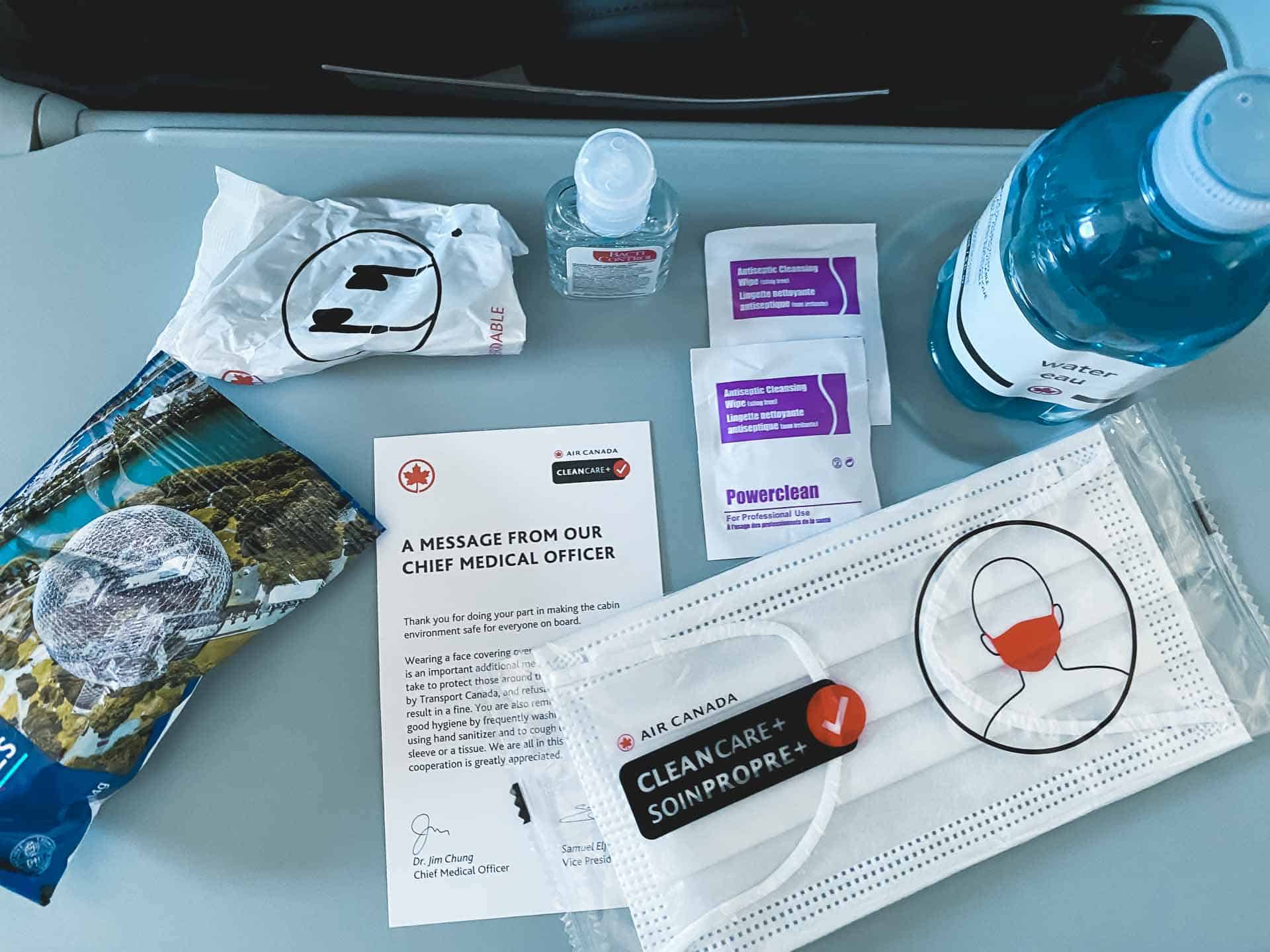 No food is offered on the flight. Although, business class gets food. I am not sure why they are considered safe from the virus when the rest of the plane isn't?
However, we were happy not to eat any food served on the plane. We had a bottle of water we bought at the airport and $40 worth of food. Which were a measly two sandwiches and two chocolate bars with a couple of cappuccinos.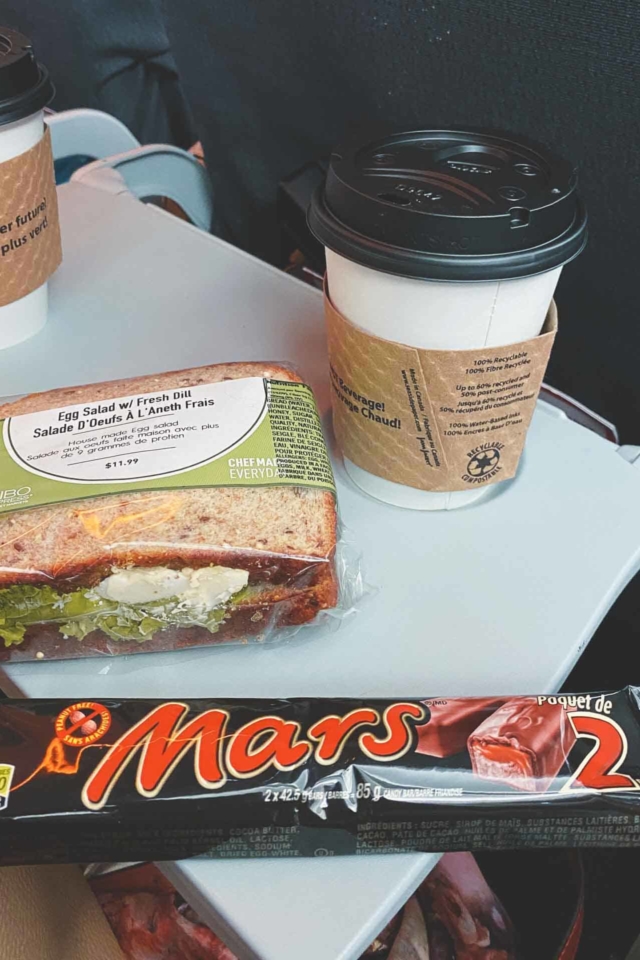 Now I remember why I love eating in the lounge so much! Airports are a price gouge and the lounges offer free food and coffee!
The flight was uneventful and we felt properly distanced from other passengers.
Although if it was a full flight, we'd be uncomfortable as Air Canada doesn't block out the middle seat and at this point in the pandemic, we are not comfortable sitting beside strangers for hours.
Our recommendation when flying is to spend the money and book business class, or make sure the flight is very empty. Which I don't think will be a problem for most Canadian flights at this point.
There were people sitting close to each other behind us and the flight attendant let them move.
How to Manage Restrictions in the Destination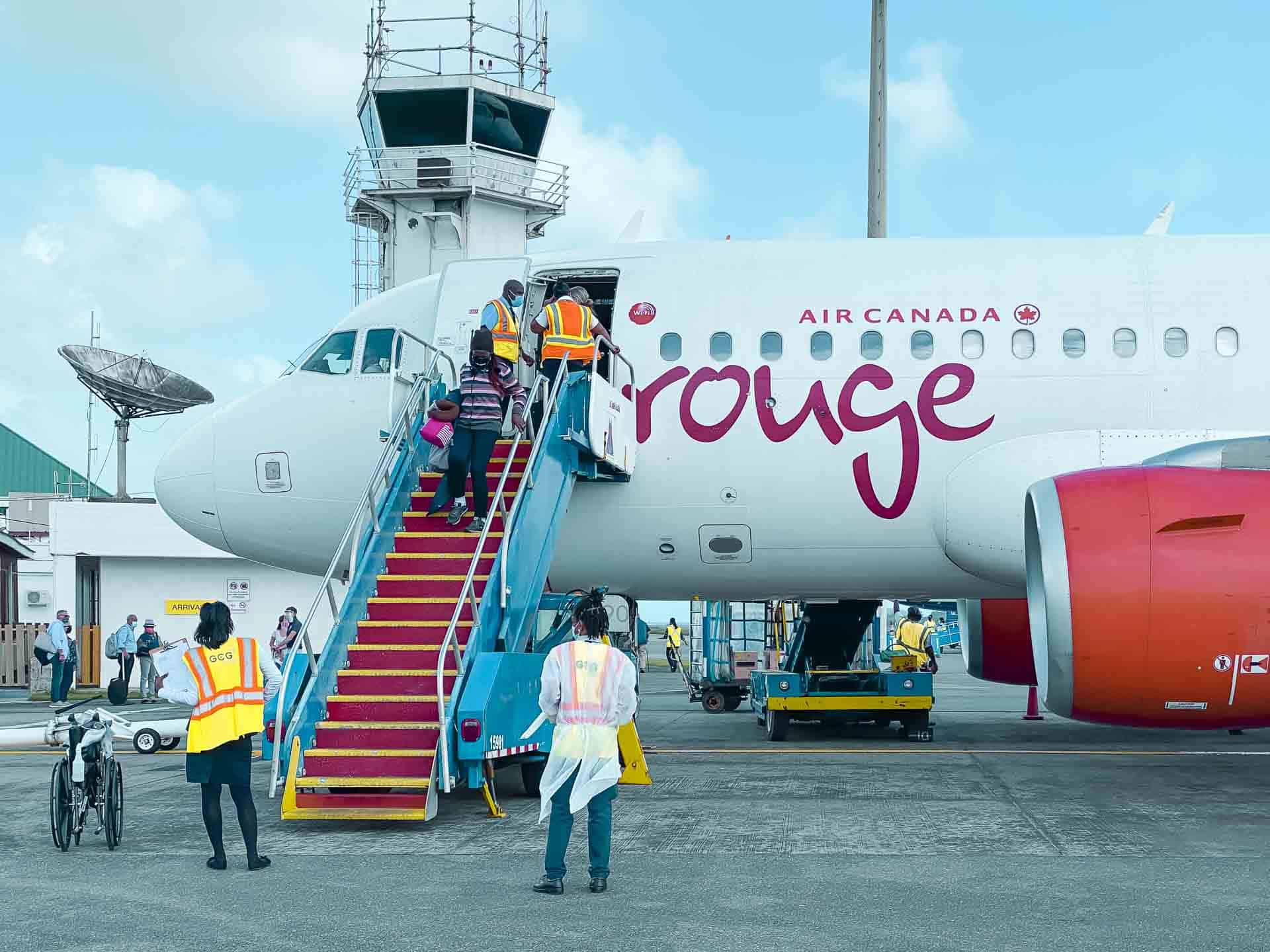 Saint Lucia was a low-risk destination when we visited. It is now open to having tourists. If you do decide to travel, look for destinations that are considered low risk and that are taking precautions.
With our negative COVID tests in hand and all our paperwork we went through a temporary COVID tent where they took our temperatures and sanitized our hands.
We then sat down with security to discuss symptoms and show our papers.
On the Island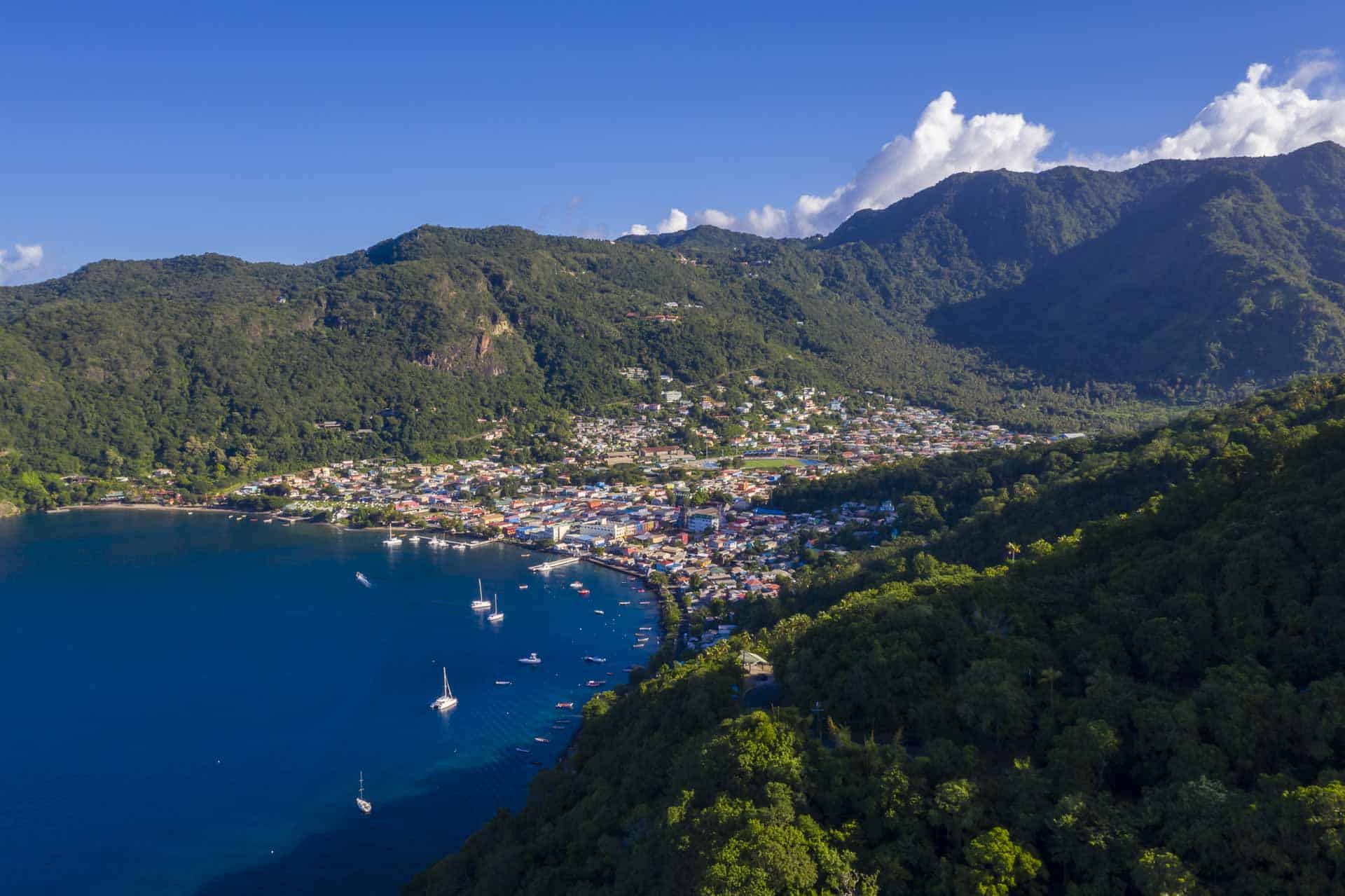 Saint Lucia is taking all safety precautions seriously, only COVID approved taxis are allowed in the airport. Everyone has to wear masks at all times and vehicles are sanitized.
There are specific COVID certified resorts you can stay at that have met the requirements for safety.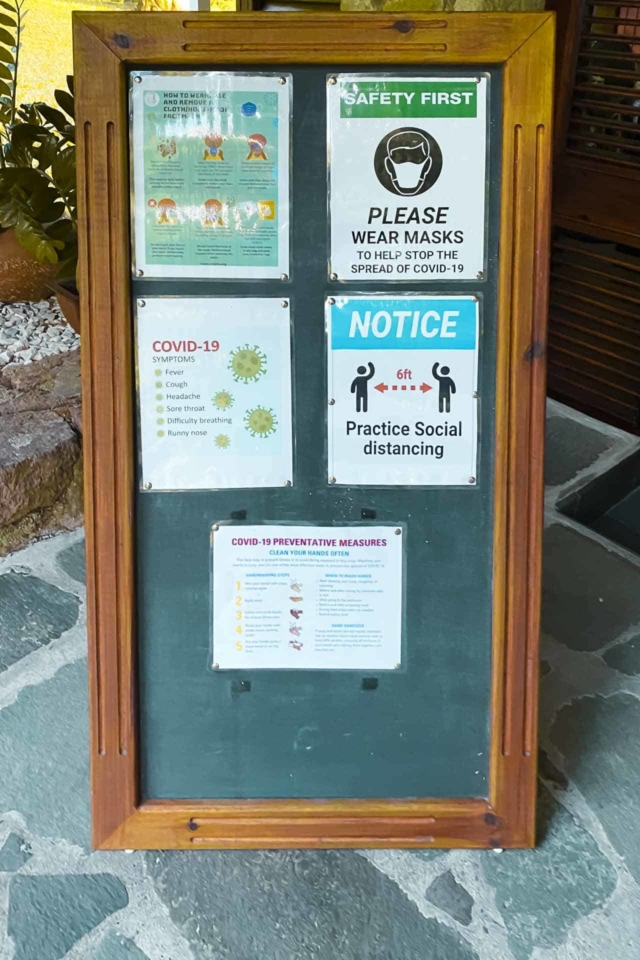 Upon arrival, we kept our masks on and kept our distance. Security checked our temperatures before letting us into the resort and when we got out of the vehicle, we had to sanitize our hands before entering the resort.
It was all very orderly and civilized.
We were very impressed with how the two resorts we stayed at in Saint Lucia are keeping their staff and tourists safe. At both Stonefield Villas and Calabash Cove, employee safety was taken as seriously as tourists.
All staff wore masks at all times and whenever we moved about, we had to wear our masks as well.
When we were in our rooms, or once we sat down at our tables, we could take our masks off.
While sitting by the pool or on the beach, we were allowed to take our masks off as well.
Choosing the Right Resorts
What we loved about our time in Saint Lucia was that we stayed at resorts that offered private villas. We had our own plunge pools, sitting areas, lounge chairs and amazing views.
Check out where we stayed in St. Lucia:
Stonefield Villas Resort
Calabash Cove Resort
We didn't have to go to the public pools if we didn't want to. Having our own private oasis helped us keep our distance.
Both resorts offered room service, so we could eat on our verandas if we didn't want to dine at the restaurant, but even at the restaurant, it was very spaced out.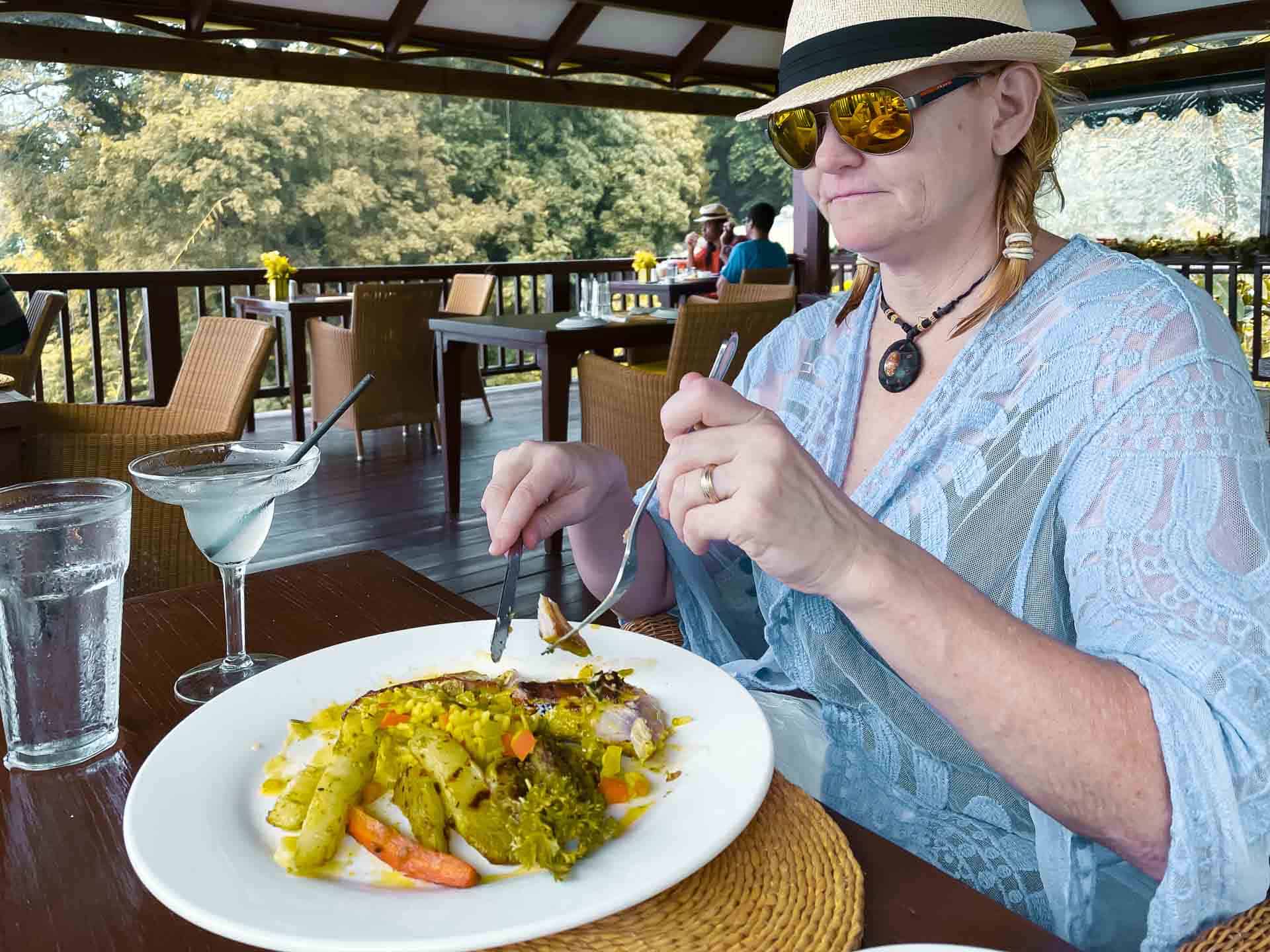 The restaurants had limited seating and made sure to keep everyone socially distanced.
We all had our temperatures checked before each meal and hand sanitization centres were set up at the entrance.
While walking to our tables, we kept a safe distance from others and really never had direct contact with anyone during our stay on the island.
COVID-19 Restrictions When Traveling

When traveling during COVID, you need to be prepared for restrictions. Saint Lucia approves visiting only to certified attractions, restaurants and resorts, so you are not free to roam around.
If you don't have an organized tour booked, you are not allowed to leave the resort. And rightfully so.
It would be impossible to contact trace if tourists were free to go anywhere they want at any time.
Whenever we went on an excursion, we travelled alone with a driver, and were checked in at the attraction. They took our temperature and wrote down our names and resorts.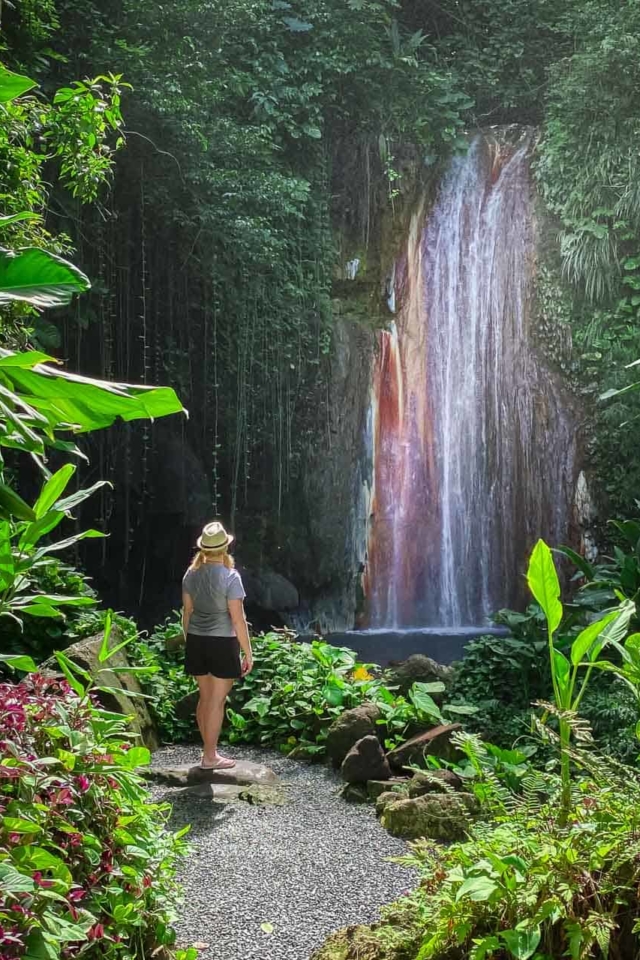 We then sanitized our hands and followed our guide (all wearing masks) at a safe distance.
Traveling in Saint Lucia was extremely safe. From the moment we entered the airport in Toronto we felt that people were taking far more precautions than our entire eight month experience living through COVID.
While travel isn't for everyone right now, it does feel safe. The airlines, airports, destinations and resorts are all doing their part to keep people safe.
The only problem is, can we trust the people?
Should you Quarantine before Flying?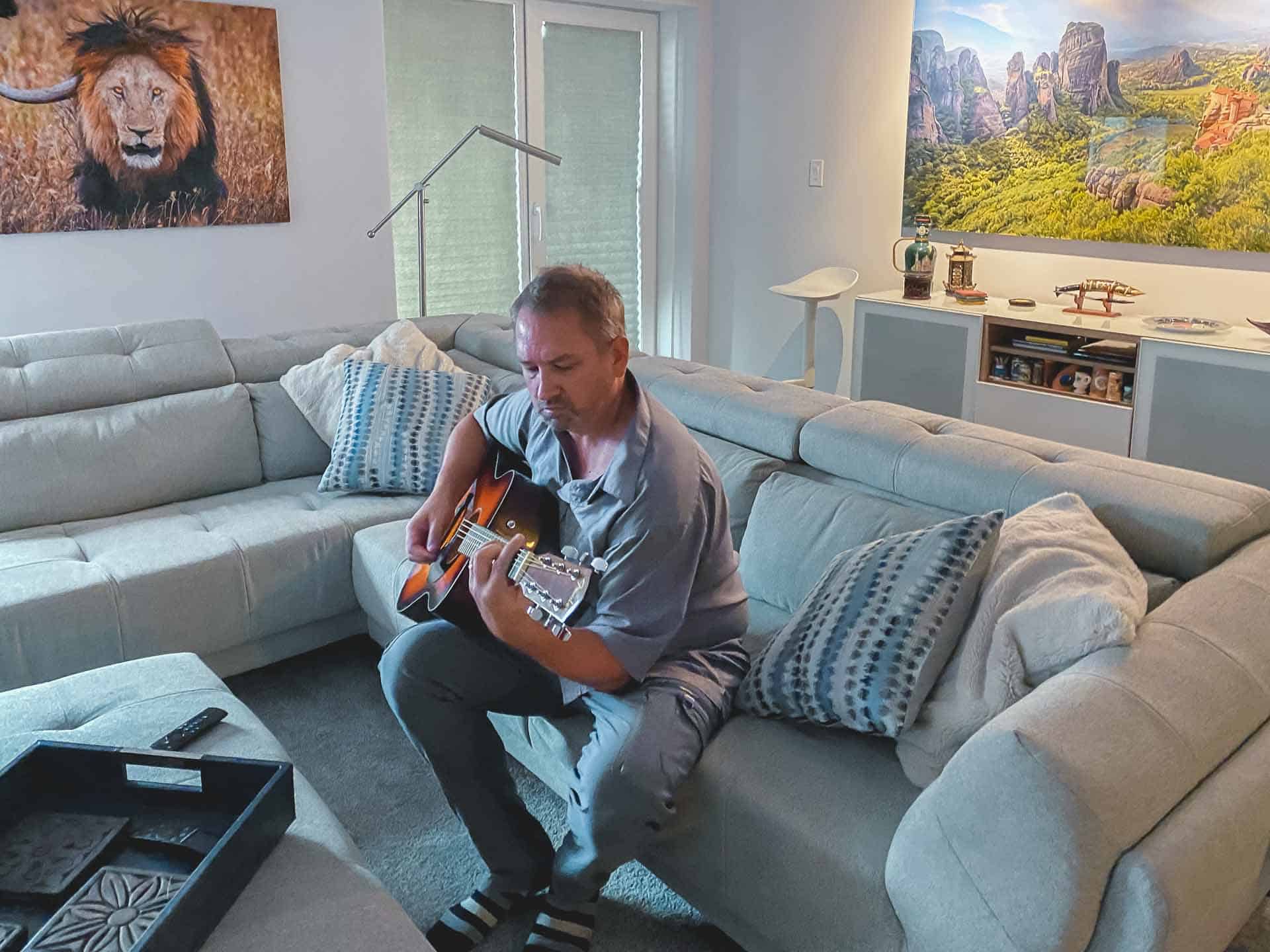 Before flying, Dave and I had a full seven days to spend in Canada after taking a COVID test.
Had we not socially distanced during that time, we could have easily come in contact with others that perhaps had COVID-19 and could have taken it with us to Saint Lucia.
It is really important to keep distancing even after taking a COVID test.
I have to admit, it was a relief to get that negative result. We have never had a test in the 8 months of this pandemic. So having a little peace of mind was nice.
What is the COVID Test Like?
The COVID teste wasn't as bad as people say. It was fast, and there wasn't a long wait at our testing centre. We were in and out within 10 minutes.
And the pain wasn't too bad, it felt a bit like getting chlorinated water up your nose in a swimming pool. A little sting that only lasts for a couple of seconds.
Mandatory Quarantine Upon Return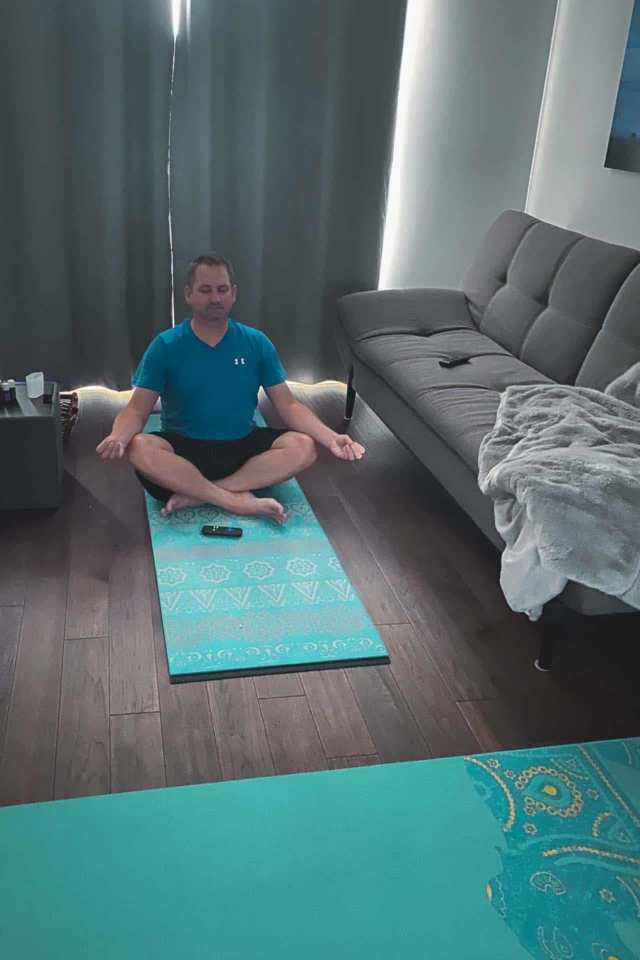 Now that we are home from our travels, we are in complete lock down quarantine for 14 days.
We have to check in with ArriveCan daily to let them know if we have any symptoms and we can expect a phone call or surprise visit at any time.
The 14 day quarantine is taken seriously. We are not allowed to go for a walk we are not allowed to have any visitors (even if they keep their distance) and we are not allowed to leave our property.
We can go outdoors if we are on our lawn or balcony but it is up to us, to make sure we don't have any contact with anyone.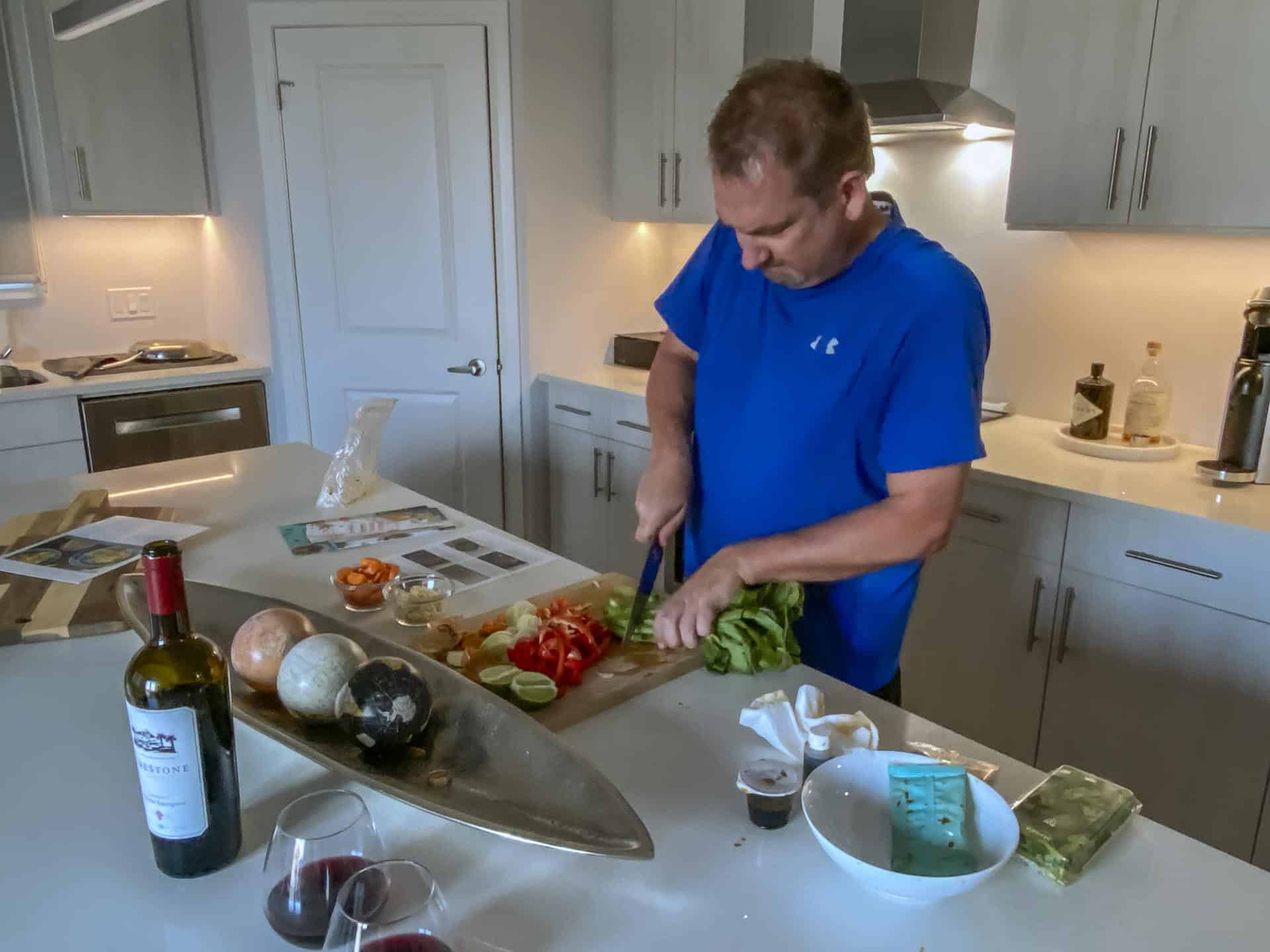 You just never know who you come into contact with even while being as safe as possible.
Since Canada doesn't have rapid testing yet, it is up to us to follow the rules and stop the spread.
Final Thoughts
Not everyone is lucky enough to travel, and not everyone has the means to be able to quarantine for two weeks after a vacation.
While we don't see travel getting back to some semblance of normalcy in the near future, it is possible. But even if your country doesn't have a mandatory two week quarantine, we feel that it is up to the traveler to make the decision to be safe.
If you can afford to travel in today's world, the least you can do is make sure you are not spreading a virus from one country to another.
We look forward to things changing in 2021, but for now, this is how travel is in the age of COVID.
And we hope that we helped you through a bit of what to expect when you do travel to a responsible country that is allowing foreign visitors.
Read more