Issyk Kul. You have probably never heard of it. But it is located in the little known Central Asian country of Kyrgyzstan, it's the second largest alpine lake in the world and it is remarkable.
Surrounded by snowcapped mountains, it almost doesn't seem real. For the first day, I thought I was seeing low hanging clouds all around its turquoise waters. It wasn't until I hiked out for sunset that I noticed these fluffy clouds were actually striking peaks.
Fast fact: The largest alpine lake is Lake Titicaca
Issyk Kul Top 7
We were invited to Kyrgyzstan by US Aid to help explore some of their new trekking routes and to get word out that Kyrgyzstan is open for business. If you are looking for an off the beaten path destination free from crowds, you may want to make the Lake Issyk Kul region of Kyrgyzstan your next stop!
Many people follow the Silk Route overland and spend a little time exploring the north shore of the world's second largest alpine lake, but there are many things to do on the south shore as tourism opens up.
1. Meet the Eagle Hunter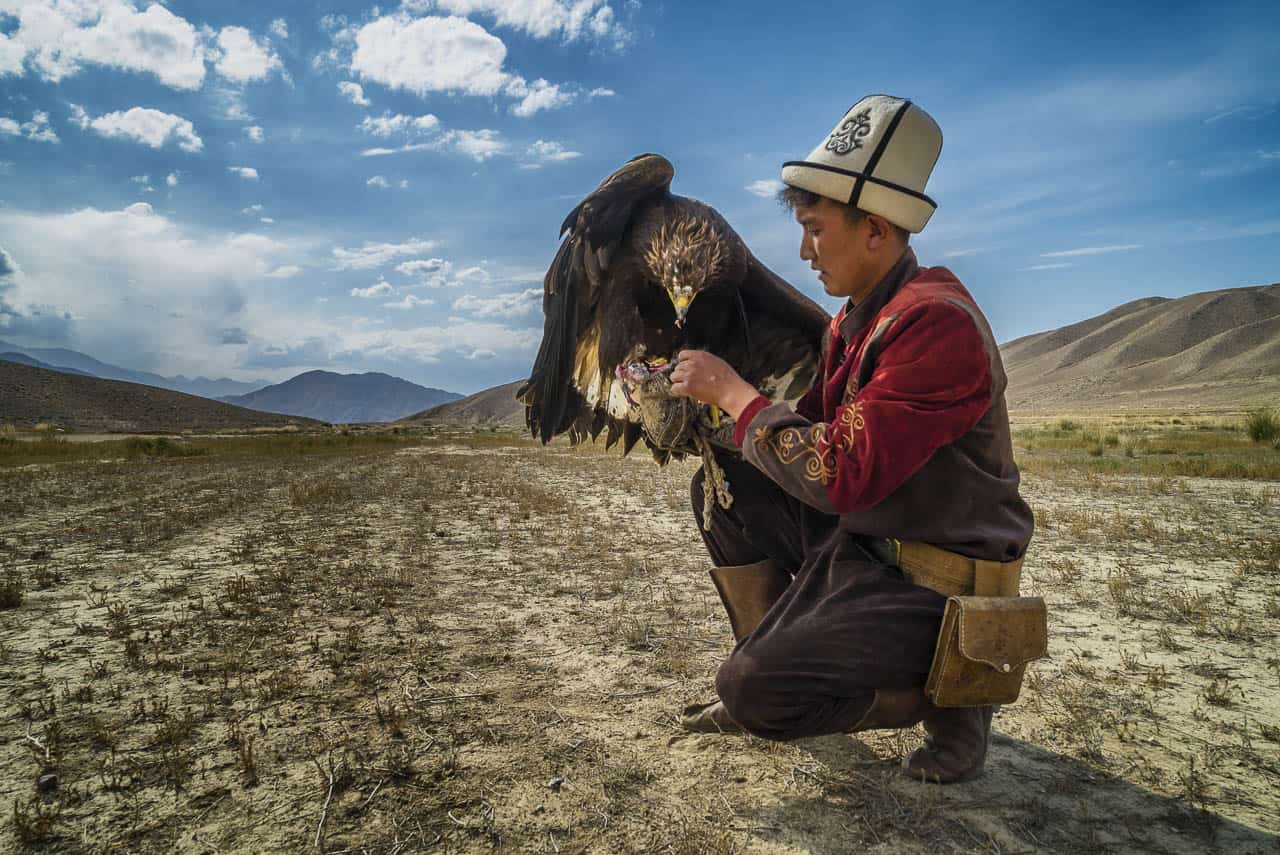 It was the number one experience we wanted to have when visiting Kyrgyzstan and it happened on the final day of our trip.
We were driving back to Bishkek and our guide Cholpin phoned ahead to book a demonstration by the Salburuun Federation.
There are few eagle hunters left in the world and to have the chance to see them at work is a must when visiting Kyrgyzstan.
During communism, the tradition nearly died out, but it is coming back as the younger generation learns about the practice of hunting with eagles and sports extravaganzas like the World Nomad Games, The Golden Eagle Festival and the Birds of Prey Festival let the hunters who off their skills and win glory.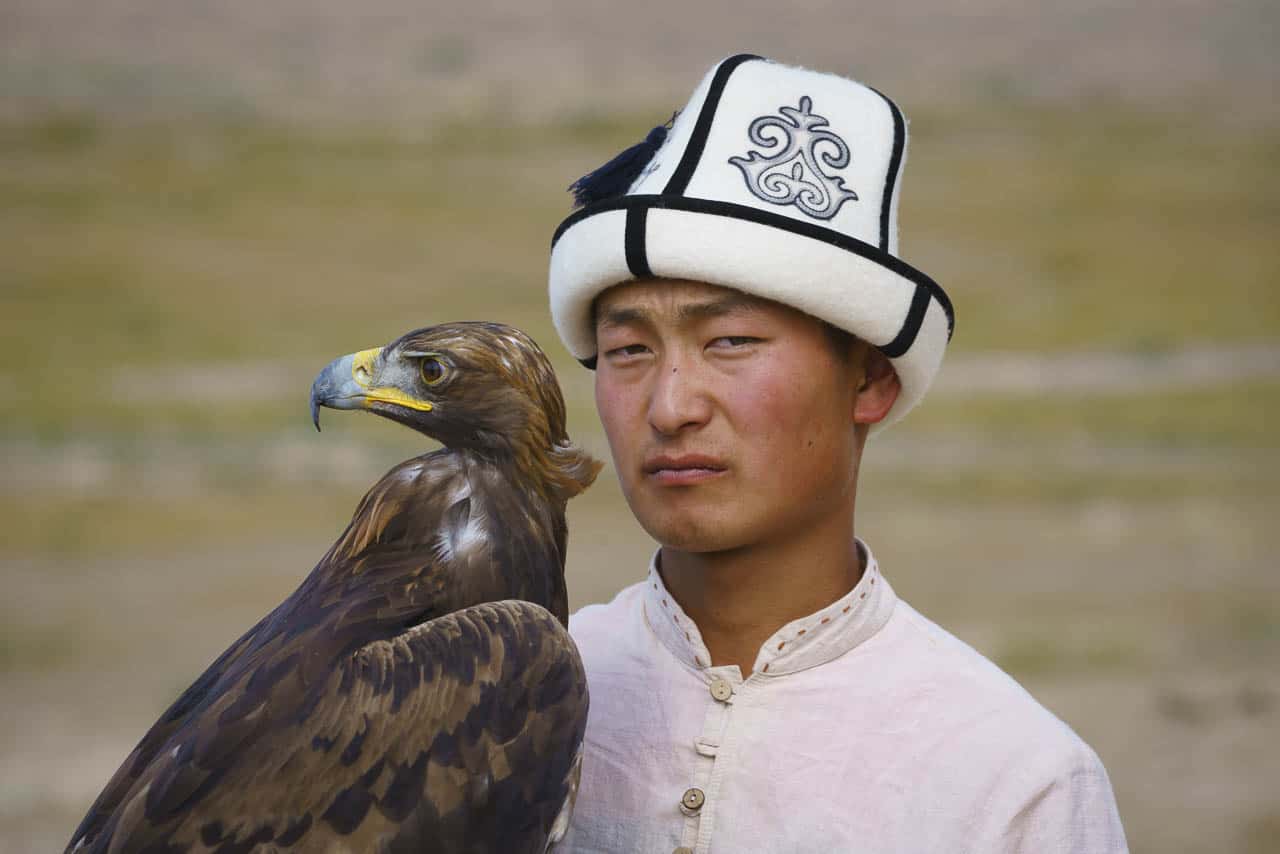 We met with Nazuul Tan and his reigning champion eagle Kata kuz who put on a hunting demonstration for us en route to Bishkek from Karakol on the south shore.
To book your appointment visit the Salburuun Federation.
To book your own Eagle Hunting Demonstration in Kyrgyzstan call or message Salburun Federation
2. Skazka Canyon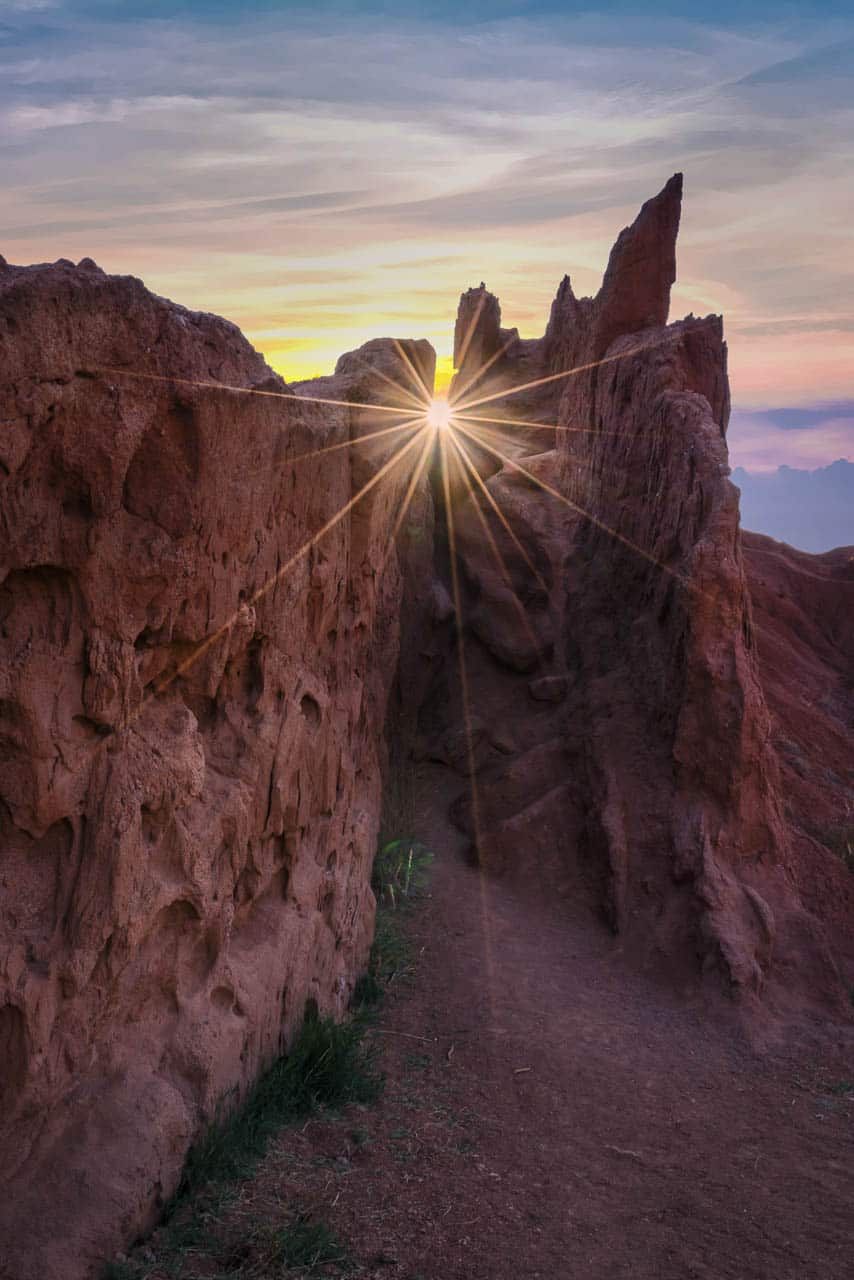 Skazka Canyon definitely gets the prize for rock formation destination of our trip along the south shore of Issyk Kul. This fairytale canyon is perfect at sunrise as there are no crowds what so ever.
We had the entire site to ourselves. Dave and I spent the morning climbing to the high lookouts and roaming through the narrow canyons.
It gets its Fairytale Canyon nickname from the peak that looks like a castle straight out of a Walt Disney movie.
While it is recommended to visit at sunset, we prefer sunrise as even while we were leaving a few hours later, the bus tours from Bishkek and Karakol were just starting to coming in.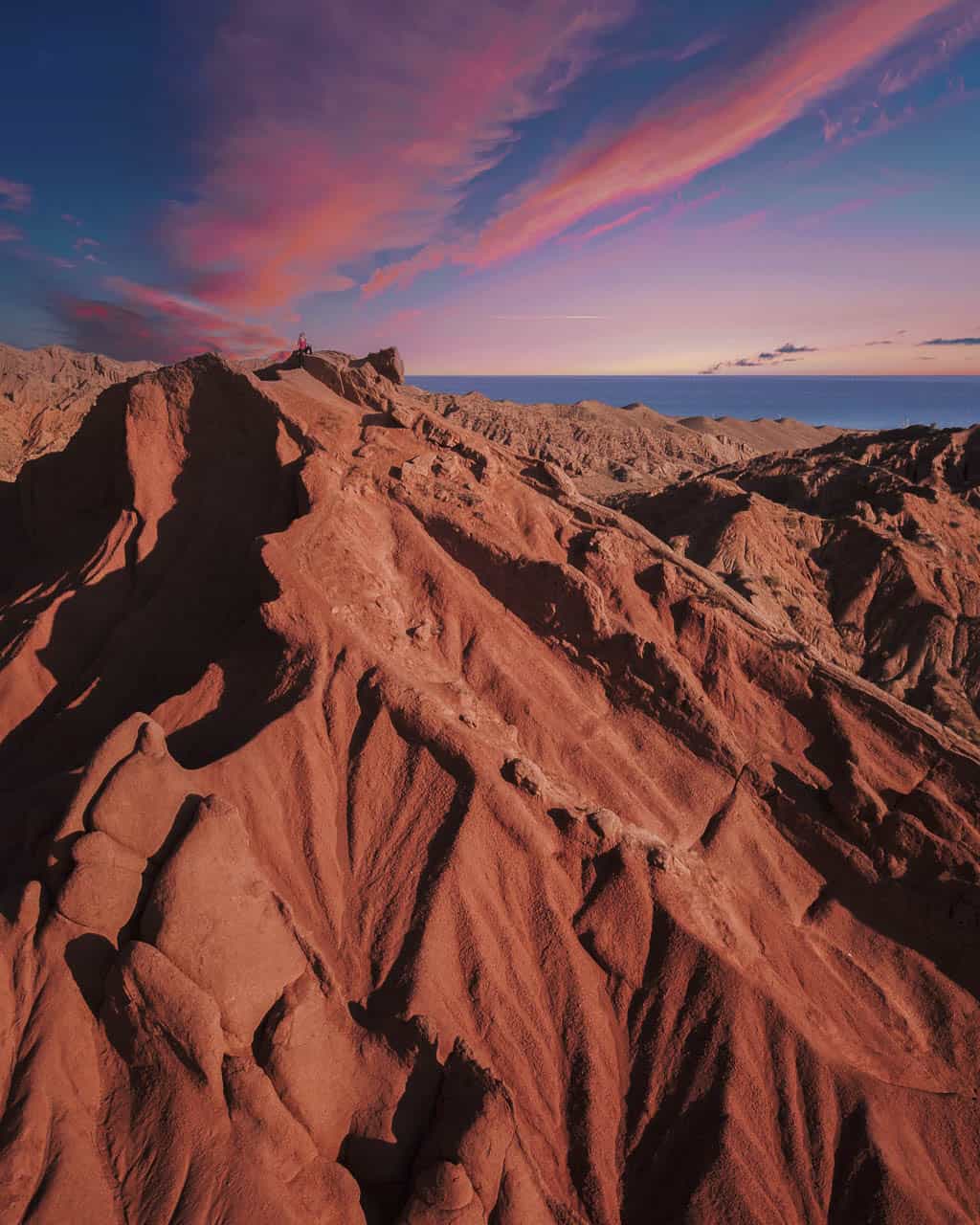 Being there while the sun comes up creates beautiful hews of red and pink without the people interrupting the view.
Our guide told us that we'd be sharing this view with many tourists had we visited at sunset.
Getting There: There are bus tours from Bishkek and Karokol. You can take a taxi at a reasonable price, Yurt Camps offer tours and there are shared mini busses to get to and from Skazka Canyon. Ask at your accommodation for details.
3. Manjyly-Ata religious site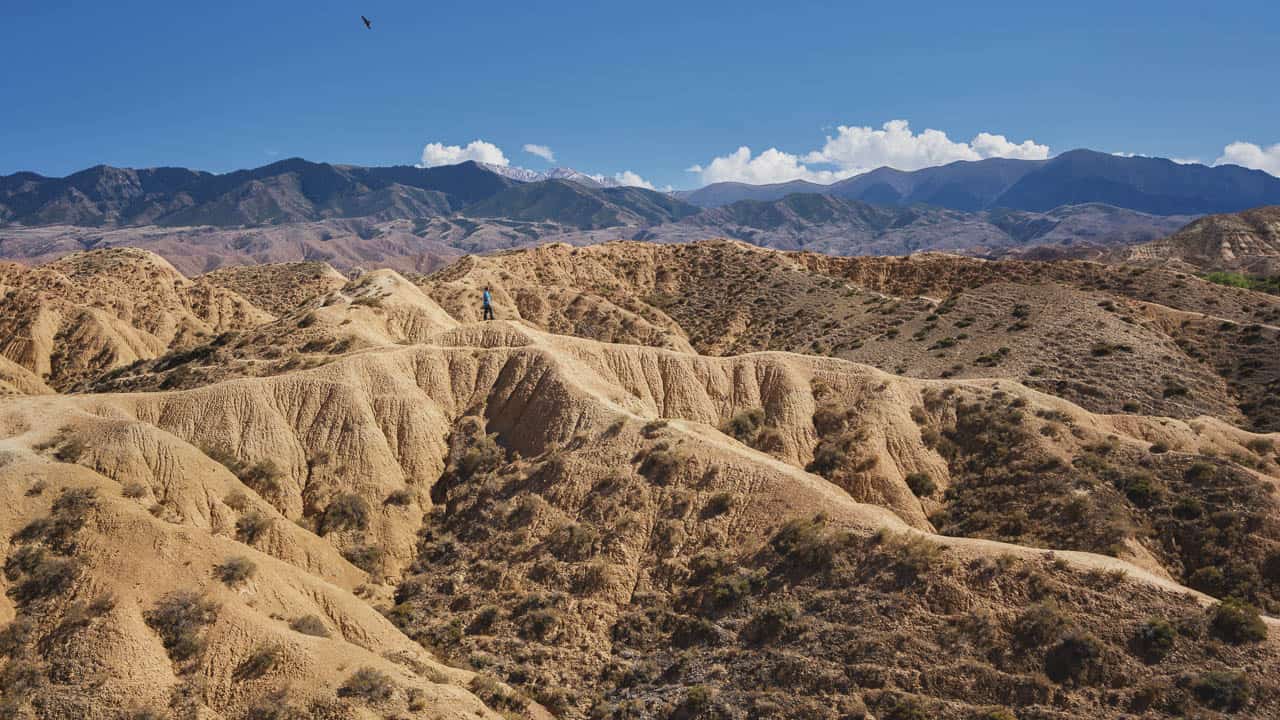 Our guide Cholpon wasn't the most informative of guides and we had a hard time finding information about the site but it is a beautiful setting.
From what I gathered, there are natural springs spread throughout the site that locals find to be healing. It is said to treat many ailments if you bathe in them.
Cholpon told us to walk to the water. We decided to go it alone as we wanted to take our time to enjoy the view and take photos of the unique landscape.
We never did find pools of water. We only ever saw one sorry looking spring near the entrance of the trail and even with our drone flying over head we never saw any water.
We saw many places where it looked like they built pools and tubs to stock water, but during our stay, they were dry.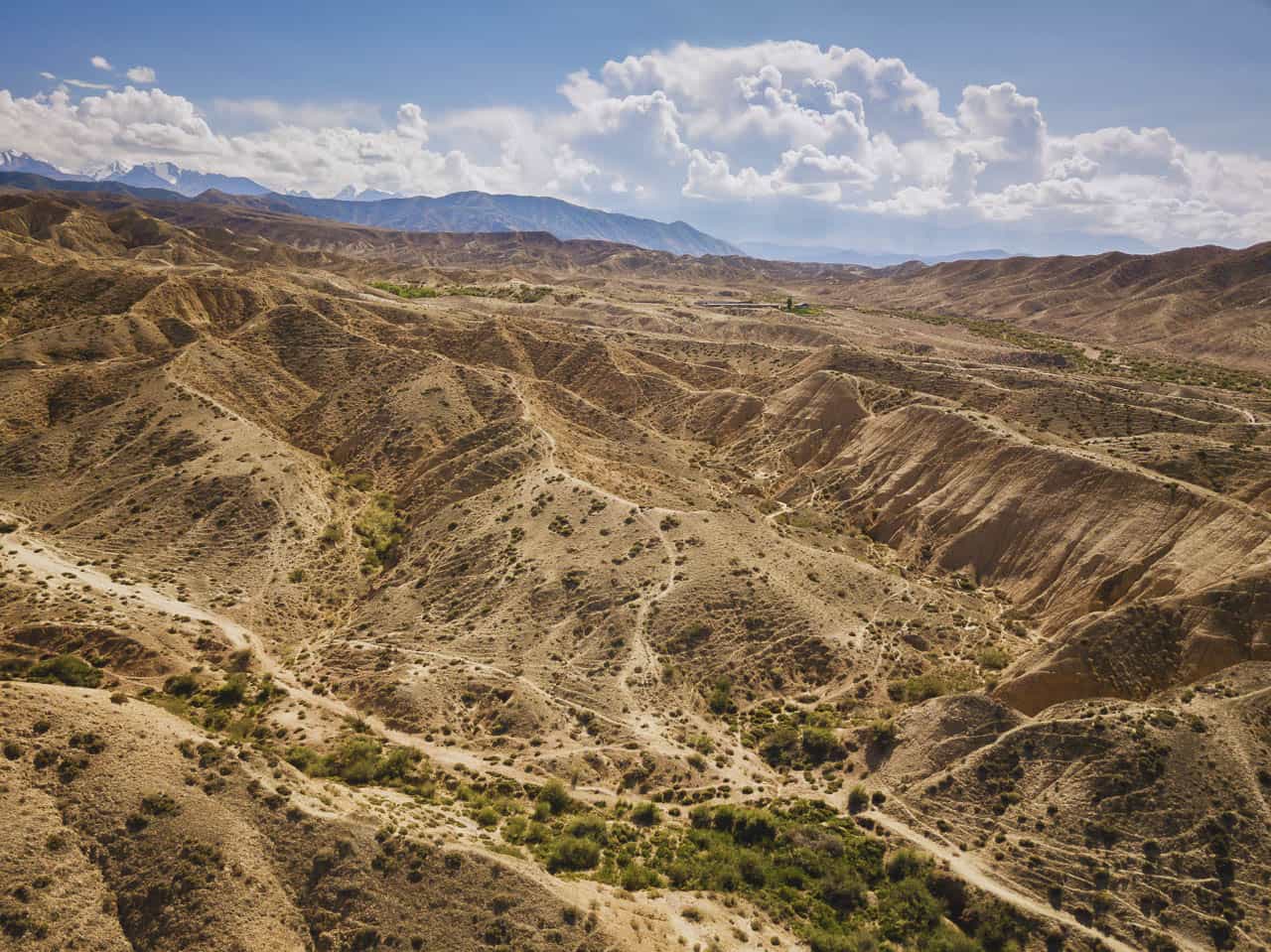 Maybe it was the time of year, or maybe the water is being diverted. We never did get our answer, but if you visit and see several springs of water, let us know!
But the landscape of Manjyly-Ata was beautiful and we found it to be a very fun hike. If we had a full day, we'd walk every inch. We had the place completely to ourselves and the trails were endless.
Tip:
Manjyly-Ata is a working religious site. It is of the Muslim faith so women, be sure to bring a scarf to cover your head. Men are required to cover their heads as well and Dave wore a baseball cap.
Getting there: Apparently, there is public transport Karakol but that is a long ride for one stop. I would stay at one of the nearby yurt camps and make a trip to the site instead.
4. Barskoon Waterfall
This is a destination that needs a full day to explore. A day we didn't have but would have loved.
There are three separate waterfalls at different elevations that you can hike to.
The lower falls is the easiest hike and only takes about 20 minutes to get to. If you don't want to climb you can hire a horse to take you up the path.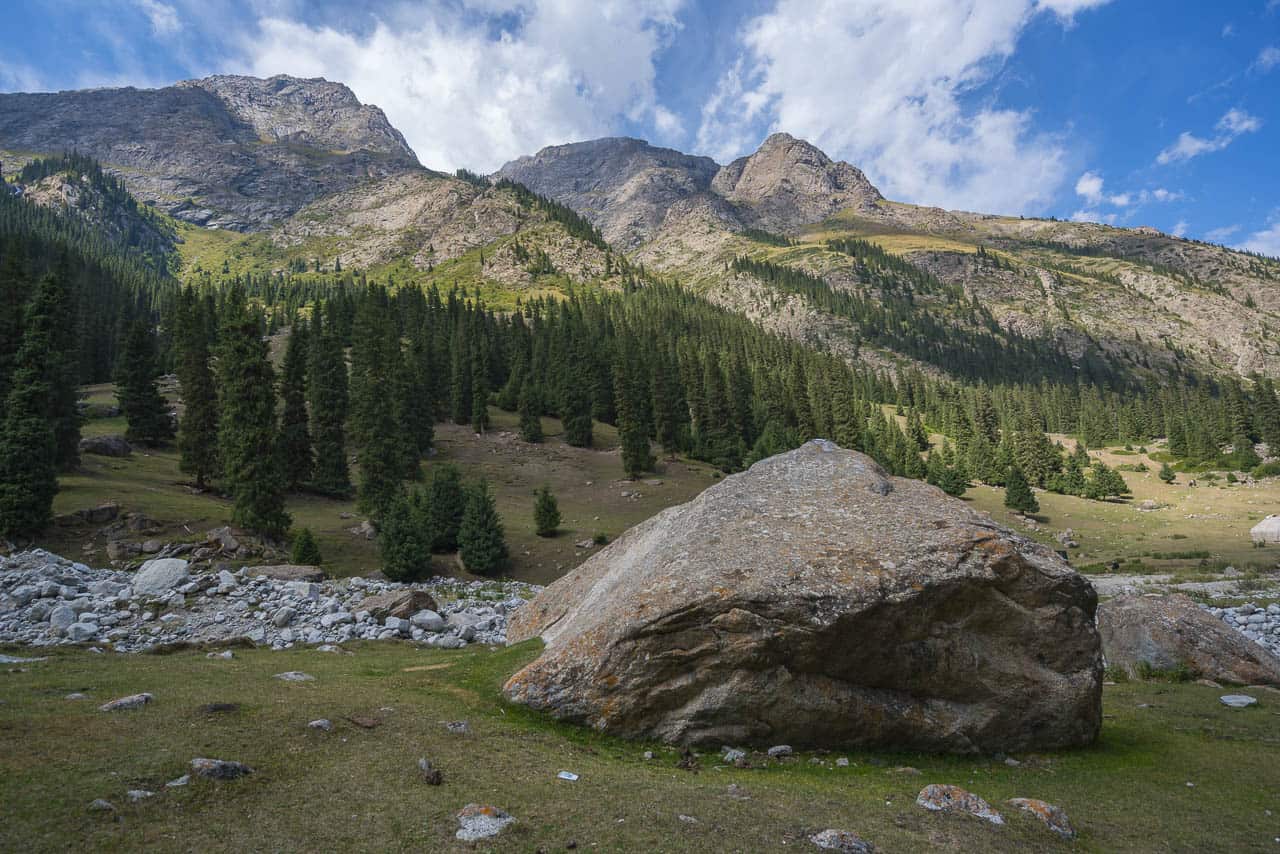 The waterfall was impressive with a cascade of 72 metres. We had a short window to ourselves before more crowds came up, but if you have some time to kill, you can wait it out as the tour groups ebb and flow through the trails.
We hear that the third waterfall is a difficult scramble and not recommended if you don't have climbing experience but we were on a tight schedule and never had the chance to see for ourselves. Luckily we had a drone with us and got a bird's eye view of all three waterfalls and look forward to going back one day soon to explore them all!
5. Horse Trekking in Jyrgalan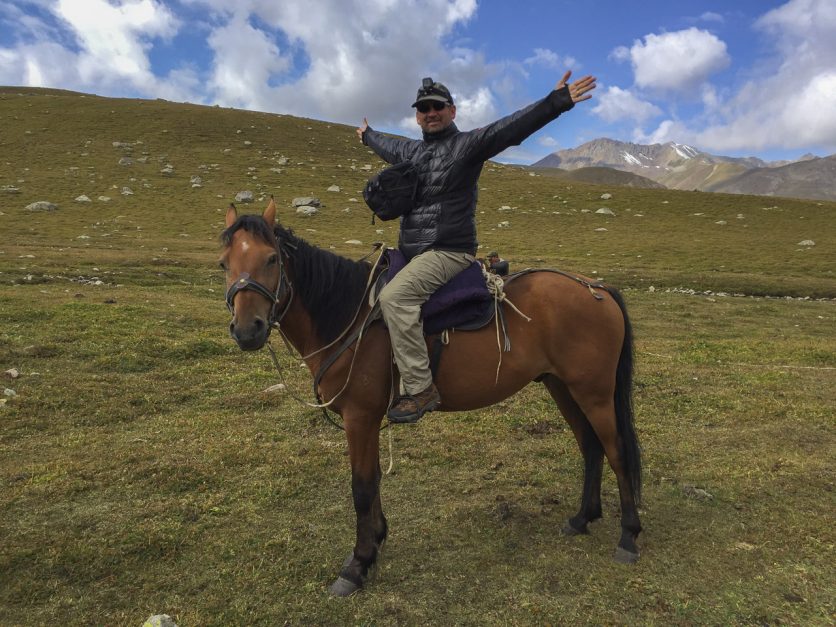 Kyrgyzstan is known for its horse culture and if you aren't going on a horse trek anywhere, I highly recommend at least taking a horse ride. How can a person go to Kyrgyzstan without getting into the saddle?
Thinking of a horse trek in Kyrgyzstan Check out our 3-day horse trek through Jyrgalan
[embedyt] https://www.youtube.com/watch?v=24o1jNpCh_Y[/embedyt]
We chose to walk because we had a three day horse trek already planned for the mountains of Jyrgalan.
6. Yurt Building Demonstration
When visiting Kyrgyzstan you will stay in many yurts. Especially on the south shore of Issyk Kul as they are still developing the infrastructure of hotels and accommodation. It will be a shame when hotels take over yurt camps as they are the traditional nomadic dwelling of the Kyrgyz people.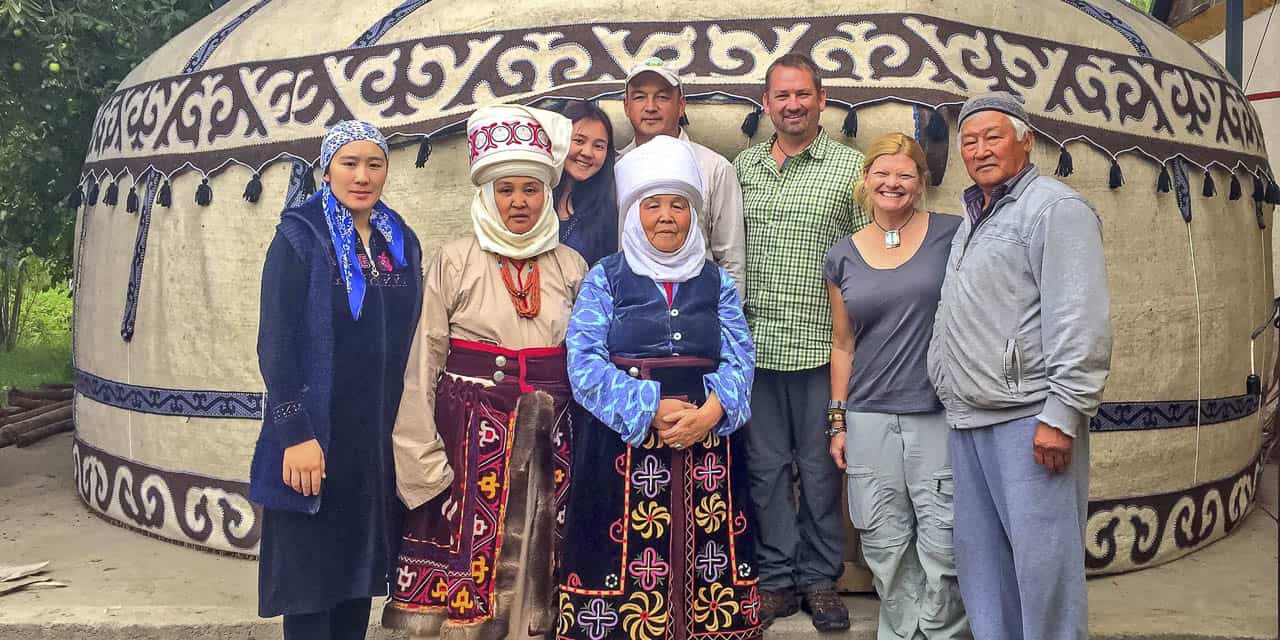 Kyrgyzstan's people are nomadic and for centuries they moved camps from the mountains during the summer months to the valleys in the winter. Even today some farmers still live a nomadic existence.
They can tear down and pack up yurts in record time and it is worth stopping in the town of Kyzyl-Tuu to watch a yurt demonstration.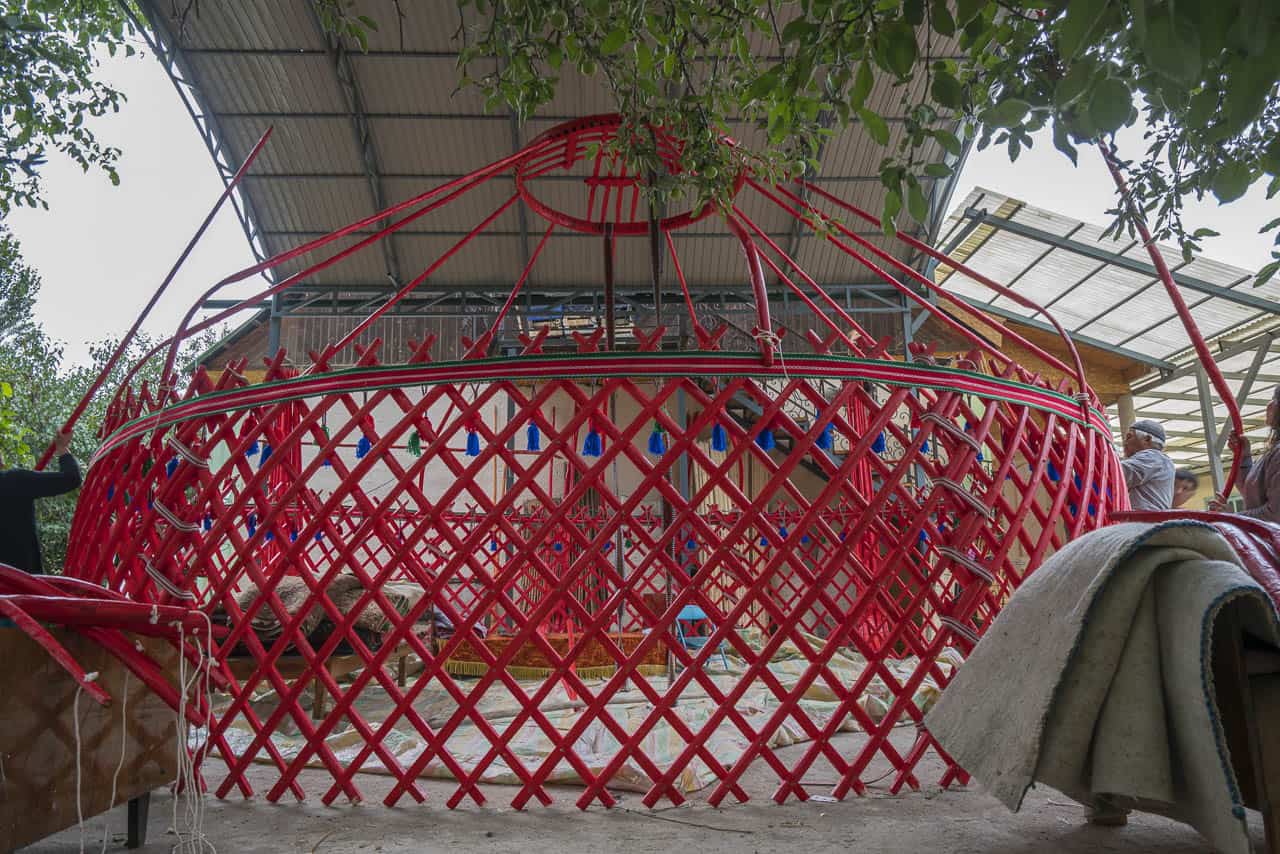 There are several organizations that offer demonstrations in the town as it has become the hub of Yurt demonstrations.
How to book a yurt camp demonstration:
We had a private guide and driver who set up our yurt demonstration, but if you are staying at any of the yurt camps on the south shore they should be able to arrange something or you can visit Destination South Shore or book directly on their tours page.
7. Golden Thimble crafts workshop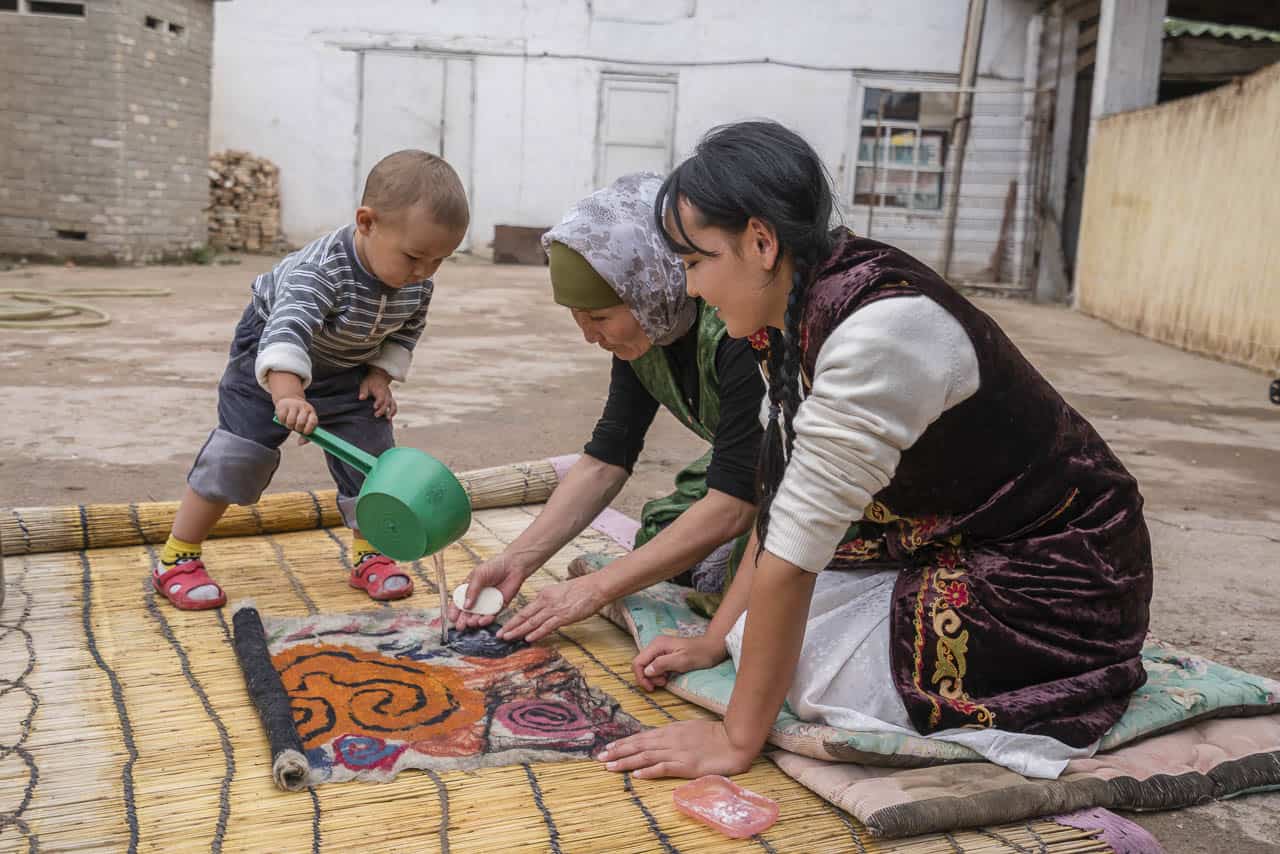 I cannot tell a lie, I wasn't really interested in visiting a thimble craft workshop.
But it ended up being one of our best visits in Kyrgyzstan. Owner and operator Janil Baishova was warm and welcoming as she showed us around her centre that employs women of Kyrgyzstan.
It's a positive initiative as women in Kyrgyzstan are not encouraged to earn a living. They are expected to stay home and take care of the children. The Golden Thimble empowers them to make crafts, rugs and clothing to sell to tourists.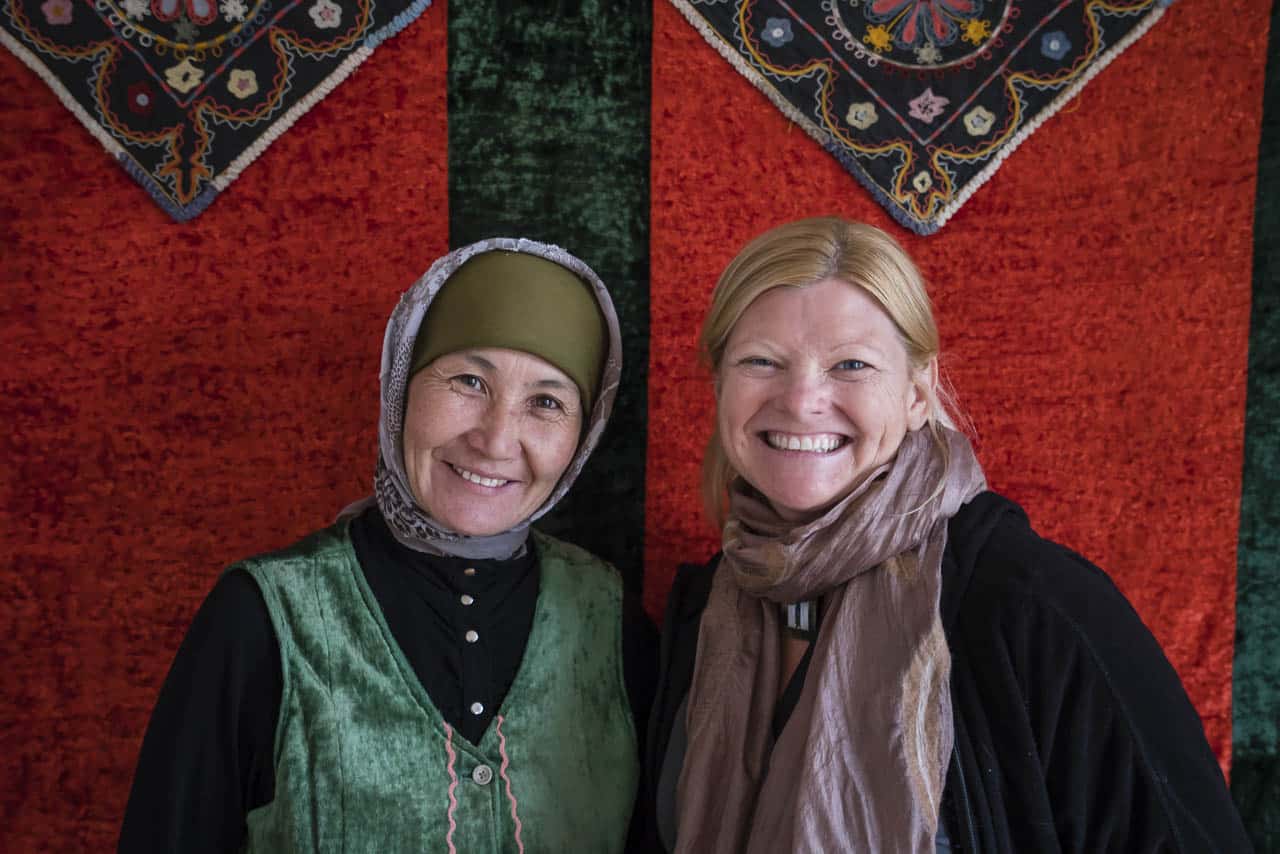 What is good is that they can take much of their work home so they can take care of their children.
We watched them make a rug during our time there and she showed us the future home of a museum she is planning on opening. There are many one of a kind designs and ancient works of art that need to be displayed to the public.
8. Stay at a Yurt Camp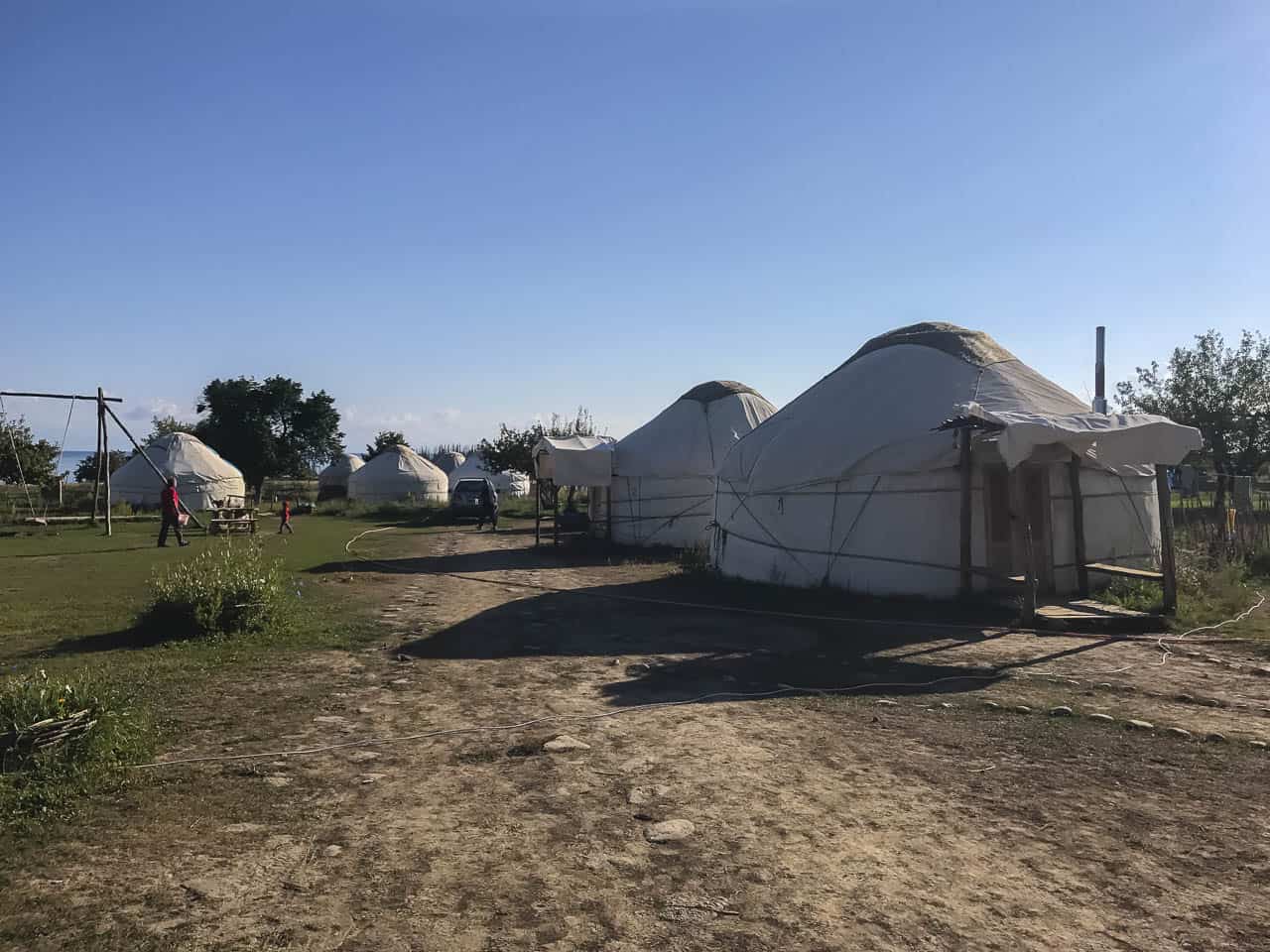 Staying at a yurt camp is an experience unto itself. Yurts are the traditional nomadic dwellings of the Kyrgyz people and staying in a camp lets you glimpse what life was like. Dinner is served in a main camp where you sit on the floor, eat traditional breads and sip tea.
Accommodation is inside your own tent on small cots or sleeping pads with thick comforters surrounded by walls covered in tapestry for insulation and warmth.
We stayed at the Almaluu Yurt Camp. It was a very basic camp that will definitely give that off-the-beaten-path feel. The toilets are outhouses and there is only cold water for showering.
The second night we stayed on Lake Issyk Kul we chose the Bel Tam Seaside Yurt Camp that was better equipped. It was located just down the road from Almaluu Yurt camp and it had solar powered showers and flushing toilets. It is also located directly on the beach of Lake Issyk Kul.
Horse treks, hikes and tours around Lake Issyk-Kul can booked through the yurt camps.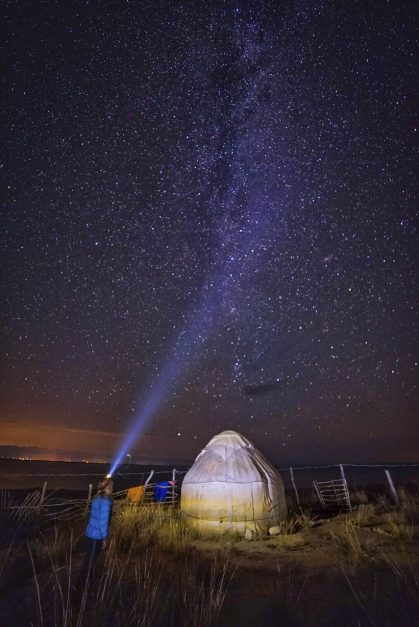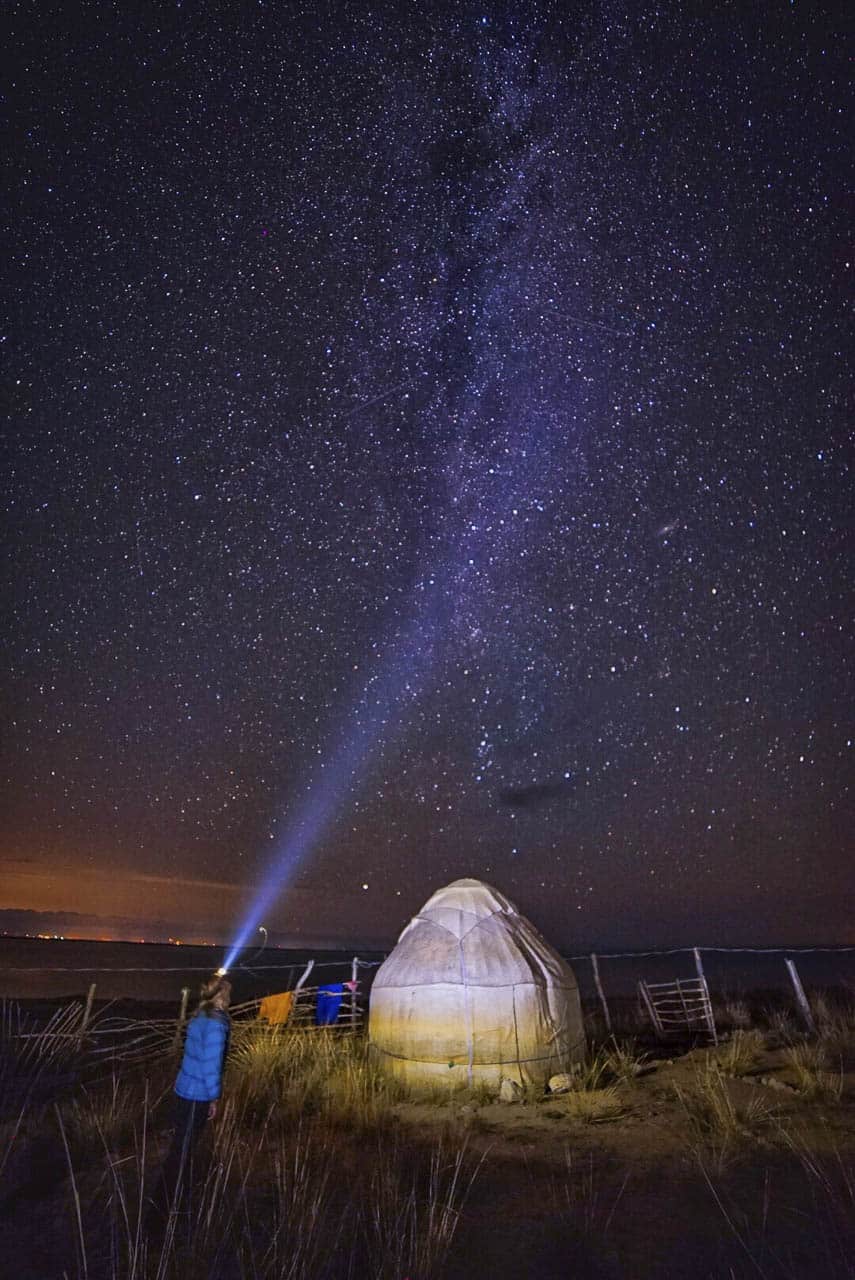 I think that as Kyrgyzstan opens up to more tourists, they'll upgrade the facilities.
The accommodations of Kyrgyzstan reminded me of accommodations we stayed at while traveling South East Asia from 2000 – 2003.
It's an exciting and new destination but tours and accommodations are basic for backpackers and trekkers.
Love Kyrgyzstan? Why Not Pin it to Save to Pinterest?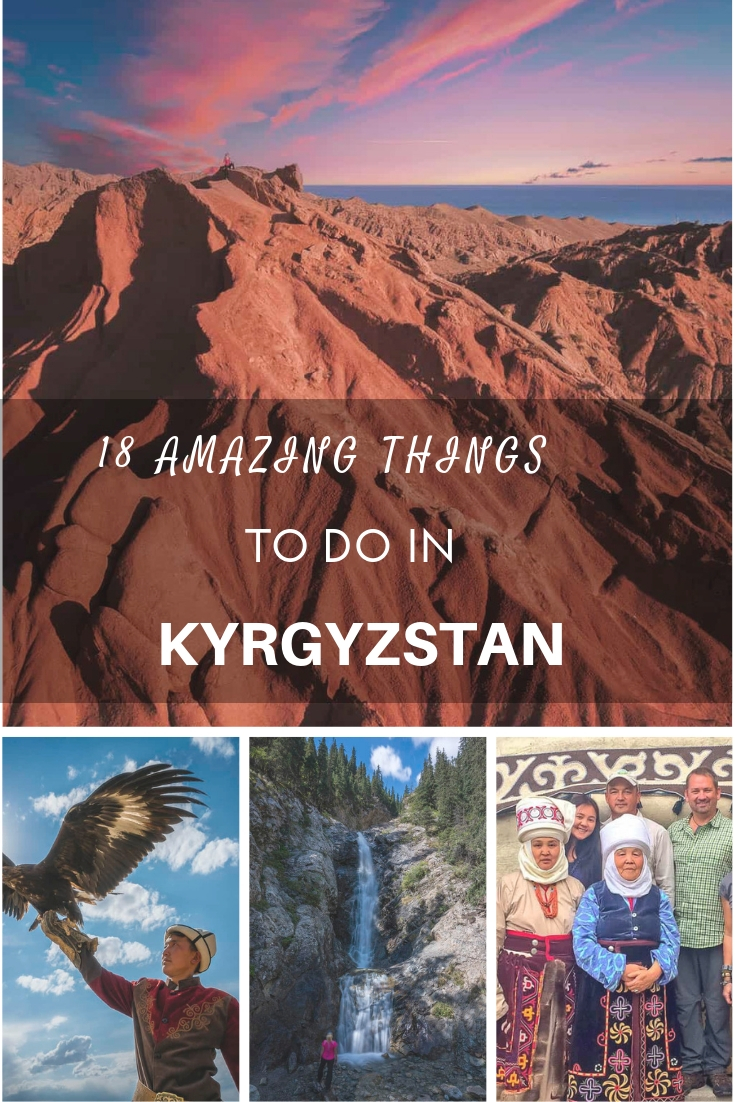 Discover Kyrgyzstan is working to change all that and soon with new trekking routes being mapped and new guest houses opening up, there will eventually be a strong infrastructure for tourism.
For now, it's the travel that is the adventure.
Independent travellers will enjoy the challenge of booking local busses and finding ways to get around the beautiful landscape of the country.
For more information on Kygyrzstan visit Discover Kyrgyzstan to explore the South Shore visit Lake Issyk Kul Destination South Shore
This trip was made possible by the support of the American people through the United States Agency for International Development. (US Aid). The contents are the sole responsibility of the author and do not necessarily reflect the views of US Aid or the United States government
Read Next: